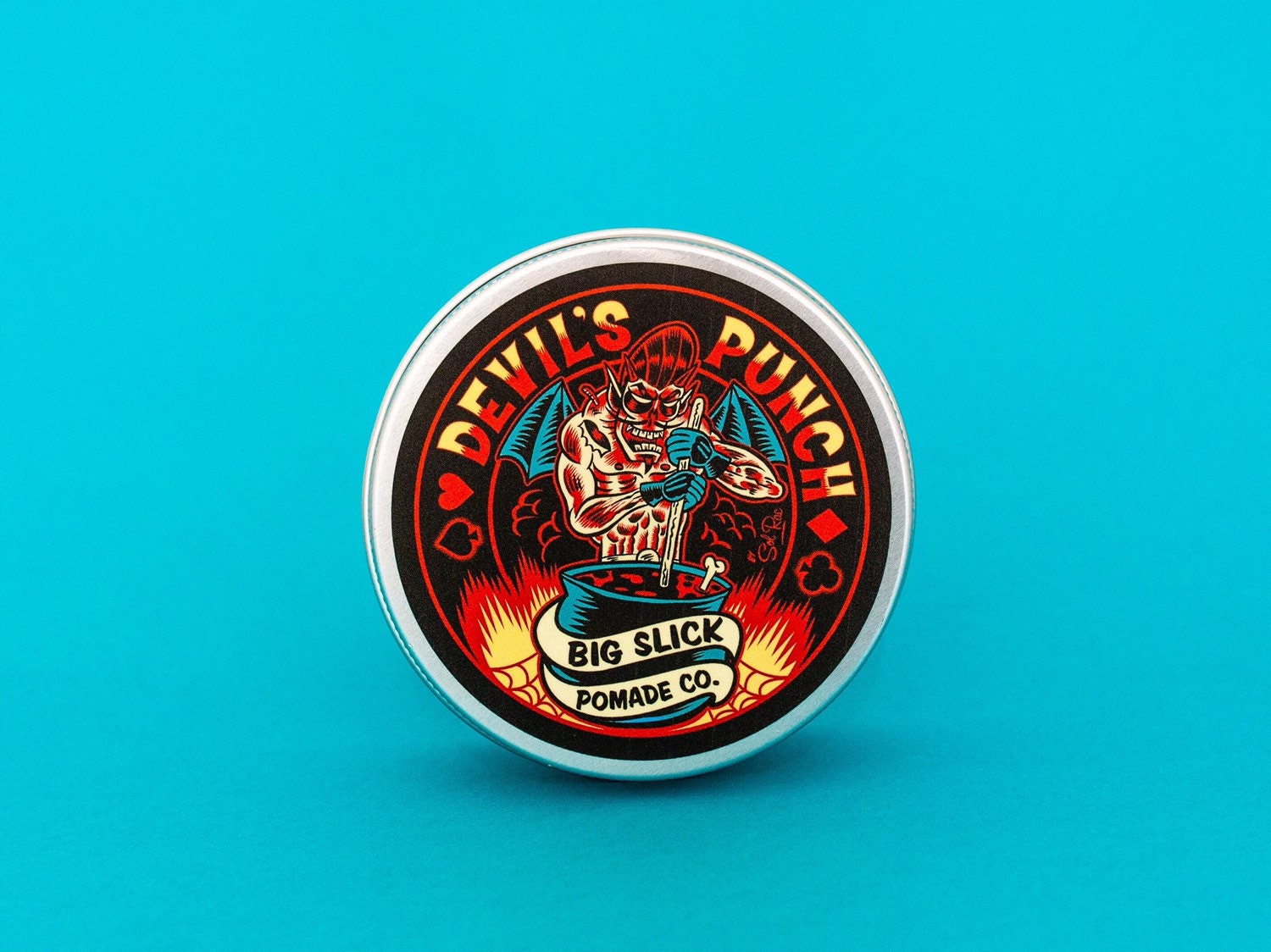 THE COMPANY
About Big slick pomade company (Source: Big slick's website)
Big slick pomade company began in 2014 as a craft project of husband and wife Vincent Minervino & Magdalena O'Connell out of New Jersey. The brand quickly became known for its user-friendly traditional pomades and accessibility to its customers, and grew to become an internationally adored grooming brand.
Big slick pomade currently offers a line of traditional oil and water based hair pomades, hair tonics and accessories and more for both men and women.
More info:
POMADE IN THE SPOTLIGHT
Opened my cabinet and which one did I grab? Big slick's devil's punch, the heavy hold. I'm more of a medium/firm hold user lately. Big slicks pomades tend to be lighter than the advertised hold so I decided to try this heavy. Their heavy OG is more of a medium-firm to me, hence. They also carry a medium DP which I didn't try yet.
Devil's punch is BS's take on a Halloween pomade. You can buy it all year round. The pomade sits in a silver, metal tin with screw top lid. Labels are printed on stickers. Lid information: its name: devil's punch, an eye catching colorful design, the devil making punch, the brand. The tin's bottom side: same color scheme, devil's punch, content (3.4 oz/100 g), hold + shine info, scent, ingredients, recycling info, Big slick data. Like the overall design. The pomade is light blue.
INGREDIENTS
Microcrystalline wax, petrolatum, beeswax, avocado oil, lanolin, olive oil, fragrance, color.
SCENT
Blood orange, goji berry, chili pepper: such an awesome scent. This is such a scent I just want to smell again and again and when I smell it, I just want to drink it. DP smells sweet and fresh. In the jar: strong. In the hair: freshly balanced whiffs.
STYLING PROCESS
My hair type: medium thick, wavy, somewhat unruly hair, medium length. I wear a contour.
My styling equipment: Denman brush D3, Bixby comb and a boar brush.
Application: 3 average scoops into damp hair. Damp makes styling a lot easier and straightens my waves.
Scooping: on top, somewhat hard but one solid push and your fingers get through. Beneath the top: softer.
Breakdown: a couple decent rubs and the pomade breaks down waxy, with a scarce dryness, not sticky, not greasy.
Working in: tug and pull. Not the Murray's superior kind of tug and pull. This is a heavy holding pomade, some tension is normal. Spreading the pomade evenly: alright.
Combing back: with resistance but nothing problematic. Switching the hair's direction sideways: noticeable tension. No bangs will be ripped out in doing this.
Control: although having the tension of a higher wax content, this pomade is not one that lets the hair fight back. You know: hair that refuses to stay down. The wax-oil ratio in here is balanced out well, is sufficiently slick and pretty easy to work with. This is no sticky pomade but keeps the hair together well. Sides: had to recomb as my hair did not stay down. This is one of my problem areas, most certainly when I use waxier/heavier pomades and just got a haircut. Cowlicks were controlled well. Lifting my hair's front: went well, no waves appearing, good height. Like said before: not a really dry consistency, so no stray hairs, no flyaways. Somewhat of a blocky shape because of the heavier hold. As with most heavies, it takes me more time to style. The DP heavy will work well for thick, coarse, curly and wavy mops.
SHINE
BS: medium. To me: a notch below medium. Offers proper shine for its heavy strength. The sheen stays like that.
HOLD
BS: 8/10 = heavy hold. Yes, for me a heavy as well. Comparing the DP pomade to the heavy OG: DP is heavier, lighter weight, similar to Big slick firm hold.
ENDURANCE
What tests did the DP had to undergo? It's a heavy hold, it's made to endure a lot, to style unruly hair types. Let's have a look! Temperatures: about 60° F (16° C), windy weather, some sun, no real sweating, a few walks. Overall: everything remained clean. No sagging, just a few loose hairs, no flyaways. The devil has brewed some great punch, yes!
RESTYLING
Oil based pomades are made to restyle as often you want. This heavy restyles well.
BUILD UP
Don't wash my hair on a daily base. Build up for me: water, tonic and 2 scoops to revive everything. Waxy build up, clean, sufficiently workable.
WASH OUT
Ease of wash-ability is different for everybody. I had to shower a few times to rinse out the product completely.
SIMILAR POMADE(S)
Big slick firm.
Reuzel pink.
Apothecary87, mogul grease.
Pomps not dead, the daily grind.
Interested in oil based pomades only? You can join our 'Oil Based Pomade Enthusiasts' Facebook group – https://www.facebook.com/groups/OilBasedPomadeEnthusiasts/