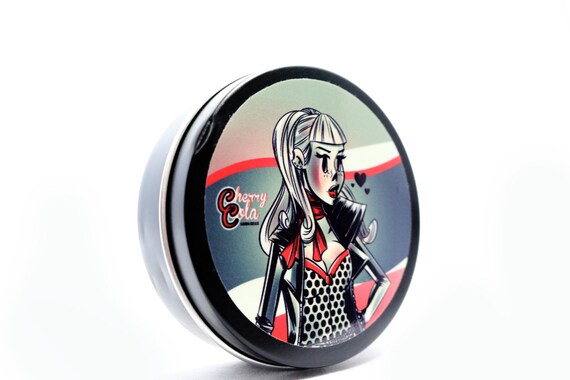 The company
Today it's time again to review a Pompking pomade. Pompking pomades is a company founded by Hector and Manuela Tapia from Beloit, Wisconsin. This couple comes with handmade and nicely designed grooming: pomades, beard stuff and T-shirts. They make legit stuff and deserve more recognition in my opinion!
I have reviewed another Pompking pomade, KO: https://piw74.com/2018/03/03/pompking-pomades-ko-medium-hold-oil-based/
The pomade
Pomade I'm going to write about is: Pompking, red gamma grease. This is a medium-heavy holding oil based, a firm (strong) hold in my book. Its name, 'red gamma' refers to the color of red they used, I suppose. It's a term out of the camera/photo world. Here follows a description of red gamma grease by the brewers: 'Red Gamma grease has a cherry cola scent, It is a medium-heavy hold. We love cherry cola. As in the drink. Hector thought one day – "Self – how can I keep enjoying this fizzy marvel of a drink all the time??" Manuela replied "turn it into a pomade?" And … Red Gamma grease, cherry cola scent was conjured up. The image we commissioned artist Nooligan to create was a killer cherry bomb. We LOVE our deadly dame because this pomade holds like hell and the scent is killer. This pomade is for you if you have medium to thick hair and you want a pomade that is going to hold your hair in place. This pomade is not for you if you have fine hair as it will tug and pull. Like all our heavier pomade, it takes a little elbow grease to cut into the pomade the first time, but after the surface is broken it is easily scooped out of the tin. For best results and minimal tugging, emulsify the product in your hands by rubbing them together to warm the wax. Apply as desired and style as usual. This pomade may hold like hell – but it can also be recombed with ease. No flaking, no fuss. This item is one of our bestsellers year round.
Labels on the tin are stickers. Pompking is known for their clean, nice designs. Original artwork here was executed by Nooligan. At the front: you see the picture of a deadly girl, 'the killer cherry bomb' + the scent that's used. At the bottom: the ingredients list, directions and info on the brand + artwork designer. The red gamma grease comes in a 4 oz tin. The pomade inside has a cherry red hue to match the cherry smell + red gamma name. It does not make your hair turn red but will stain pillows and towels a bit.
More info on Pompking pomades:
My profile
My hair: medium thick, wavy, somewhat unruly hair of medium length. Wear a contour.
My styling equipment: boar hair brush, Denman brush, detangler (Tangle teezer), and Bixby comb. Use brushes most.
Ingredients
Beeswax, Lanolin, Coconut Oil, Petrolatum, Scent, Color.
Hector and Manuela always work with a short list of ingredients: like this approach.
Petrolatum is more at the back of the list, I also dig the fact they try out other ways to compile their greases.
Scent
Cherry cola. I was thinking, will I buy the green gamma or the red? I cut the knot because of the scent. This scent is strong when you open the tin and yes: this is spot-on cherry cola: nice scent Hector and Manuela! I thought this was going to be too strong for my taste as I don't wanna smell like cherry cola the whole day. What did I catch? Just some subtle and agreeable breezes at the beginning. At the end, I didn't smell that much anymore. I'm content it being this way.
Application – styling process
Application: in damp hair, if you read my reviews you know why. I scooped 3 small licks and these did the job for me.
Scoop-ability: no fingernail task involved. You have to push with some force to dig in the top layer before the pomade comes free. Beneath the top, easier to scoop the licks out but being a medium-heavy (firm): no issues at all.
Breakdown: not problematic at all, you've to rub it thoroughly between the hands and after a few seconds you obtain a waxy, somewhat dry, non-greasy and non-sticky pomade consistency.
Working in: there's a certain amount of tug and pull but without ripping out hairs. It feels grippy. Red gamma grease is not that difficult to spread evenly throughout the mop.
Combing back: used my tangle teezer brush and there was nearly no tension. With the Denman brush, you will notice some more resistance but nothing out of the ordinary working with a firm holding wax based. Changing the direction of the hair to the side did not cause any issues. I was able to create a nice, clean part.
Control: this is a drier, waxy, non-sticky pomade, so I had to deal with hairs popping out (cowlick area at one side). I took my boar brush and the mop obeyed the boss. The pomade held down the rest of the bangs. As said: it's on the drier/non-sticky side but no troublesome stray hairs there. My front was not wavy, nicely straightened out. Styling with the red gamma grease went well and comfortable seeing its strength profile! There's a good quantity of wax present but it does not give you that wax-heavy, forcing the hair in a certain direction kind of sensation, the one that makes the hairs jump up. In that regard it reminds me of the Tremolo's heavy hold pomades: Ace's high and stiff dick.
Weight: more of a lightweight for me which resulted in great volume and height.
Styling time: average. First time use is getting to know each other. Much faster on the second day.
Initial results: red gamma grease offered me some nice, very clean shape (not blocky) and provided good height.
Results after 30′: no sag, no loose hairs: the same clean look as at the start.
Shine
Neutral from start to finish.
Hold – endurance – circumstances
Description of Hector and Manuela: a medium-heavy. I call it a strong (firm) hold or the midway between a medium and heavy hold. For my hair: a good firm hold, a heavy hold on the lighter side of the spectrum. In my review of the KO, medium hold Pompking pomade, I said I was in need of a heavier pomade of this line and the red gamma grease meets these expectations very well! This pomade has the perfect amount of hold for my hair! I did test Pompking's red gamma grease in temperatures around 70, there was sun, not much of a wind, a walk, a small bike trip, a few drops of rain. It did the job very well, my mop remained the same! Pompking's red gamma grease is a great summer pomade.
Restyling
Facile thing: oil based does provide you with that convenience. No lost of hold, no loose hairs.
Build up
Build up for me: don't wash out my hair, just adding water and hair tonic, then 2 scoops of pomade. The red gamma feels a tad grippy, waxy (but not too waxy), clean, workable for sure. My hair looked great on day 1, even greater on day 2!
Wash out
2-3 rounds of shampoo, what makes it an easy to wash out pomade for me. Important to mention: it all depends on the type and amount of shampoo used, also your hair type + the present build up in there.
I provide you with some links for easier wash-ability, if necessary:
Pomade degreasing methods: https://piw74.com/2016/07/12/an-inventory-of-degreasing-methods/
An international list of pomade degreasing shampoos: https://piw74.com/2018/04/11/international-list-of-pomade-degreasing-shampoos/
After I rinsed, my hair felt soft and healthy.
Similar pomades
Tremolo's, 'Ace's high', heavy hold oil based.
Tremolo's, 'Stiff dick', heavy hold oil based.
Conclusion
This is a well-made, balanced pomade, overall easy to work with! Great job, Hector and Manuela!
Interested in oil based pomades only? You can join our 'Oil Based Pomade Enthusiasts' Facebook group – https://www.facebook.com/groups/OilBasedPomadeEnthusiasts/