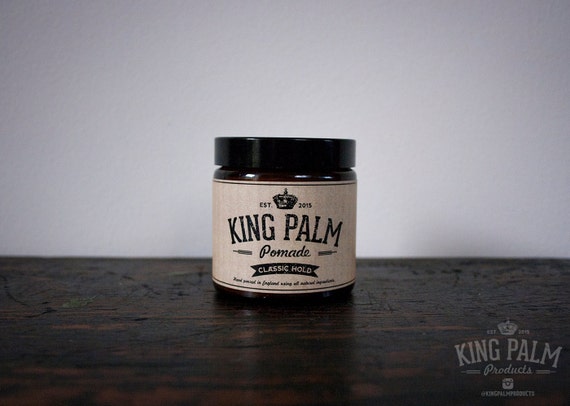 THE COMPANY
King palm is an European hair and beard care brand out of Folkestone/UK. This company, run by Russell Lee, fabricates handcrafted all natural and vegan products. It was established in 2015.
The King palm pomades are vegan, all natural and brewed in small batches to ensure good quality. Beside the reviewed classic hold (a medium), King palm consists of a light and heavy hold as well. All are oil based.
More info: https://www.etsy.com/shop/kingpalmproducts
POMADE IN THE SPOTLIGHT
The hair pomade comes in a 100 g (3.5 oz) glass jar. Jar is the same as The Daimon barber ones. Some of you may have the previous amber style jars. The displayed jar is the current. Pomade is whitish.
INGREDIENTS
I found an ingredients list on Russell's etsy page which differs from the one on the jar. I'll mention both:
Etsy list: Soy wax, castor oil, candelilla wax, jojoba oil, avocado oil, essential oils.
Jar list: Castor oil, avocado oil, jojoba oil, candelilla wax, soy wax, essential oils.
The castor, avocado and jojoba oil are cold-pressed (mentioned on the jar). What does that mean? Extracting oil through cold-pressing involves crushing the seed or nut and forcing out the oil.
Avocado oil: helps soften and condition dry and damaged hair, also promotes hair growth.
Jojoba oil: has a molecular structure similar to sebum (the oil that the scalp naturally produces). Leaves your hair shiny and adds elasticity.
SCENT
Essential oils of: patchouli, cedar and bergamot. Reminds me of the O'Douds water based scent: that one contains notes of cedar as well. In the jar: subtle smell. In the hair: very subtle. Breezes nearly not present. Ideal for people not fond of tart and/or very lingering scents or scents in general. I like this scent.
STYLING PROCESS
My hair: I've medium thick, wavy hair. I wear a side part with a contour.
My styling equipment: at the moment, I'm using a brush with wild boar hair, a Denman brush plus a wide tooth comb (detangler). During styling, I use brushes most. Use a tangle teezer to avoid tug.
Application: into damp hair: just works better for my wavy hair.
Scooping: top layer was a bit though, got that typical 'caterpillar' texture but once I went underneath, a lot softer and easy to scoop.
Breakdown: easy job. The substance I obtained was not tacky, buttery, oily, wet and shiny which predicts a good level of shine, I suppose because of the castor oil.
Working in: no problem, easy to spread, without any tug. Tiny grip noticeable after applying 2 scoops.
Slicking back: little tension (Denman brush). Finding and doing my part: easy.
Control: it laid down my hair rather quick. From the start, I was not very certain of its hold and control: medium-light sensation. It tamed my cowlick area okay but for a short time. Sides: rather difficult, hairs sticking up, recombing was the message, then okay. Strays, flyaways: a few. Front: lifting was not simple but I got a not wavy front. Had to restyle my front a few times because I did not get the desired shape and the obtained shape collapsed. Hair height: average.
SHINE
Labeled to have a medium shine. Yes, that's what I got from it. Sheen did not dull throughout the day.
HOLD
Classic hold = a medium. For me: a medium-light and not the right amount of strength. Straight mediums and medium-firms work alright for me, being a firm and heavy hold user. This hold is suited for straight hair, lower contours, a slick back, a simple side part and people with finer and less hair than me. If you have wavy hair and you want it to occur natural, this one can be taken into account. I prefer more straight hair, King palm heavy hold is a better option.
ENDURANCE
Hair didn't keep its shape: sag, cowlicks sticking up. Had to recomb several times. No problem with strays, flyaways. My front: kept collapsing.
RESTYLING
No resistance: restyled alright. Obtained much better results but with not for long stretches of time: sagging, collapsing of the front again.
BUILD UP
Hair tended to wave a bit more due to the increase of weight and maybe application on damper hair. Didn't wash my hair, just 2 scoops on top of the build up from the day before. Before the actual styling, I tried to let it settle for a few minutes but it doesn't really settle. Had a tiny bit more hold and endurance. Heavy hold on day 1 and the classic on day 2 is an option.
WASH OUT
2-3 washes depending on your hair type and how much was in. Hair feels soft and conditioned.
SIMILAR POMADE(S)
The mail room barber, Nolde forest.
The mail room barber XX.
O'Douds medium.
The iron society medium.
Interested in oil based pomades only? You can join our 'Oil Based Pomade Enthusiasts' Facebook group – https://www.facebook.com/groups/OilBasedPomadeEnthusiasts/