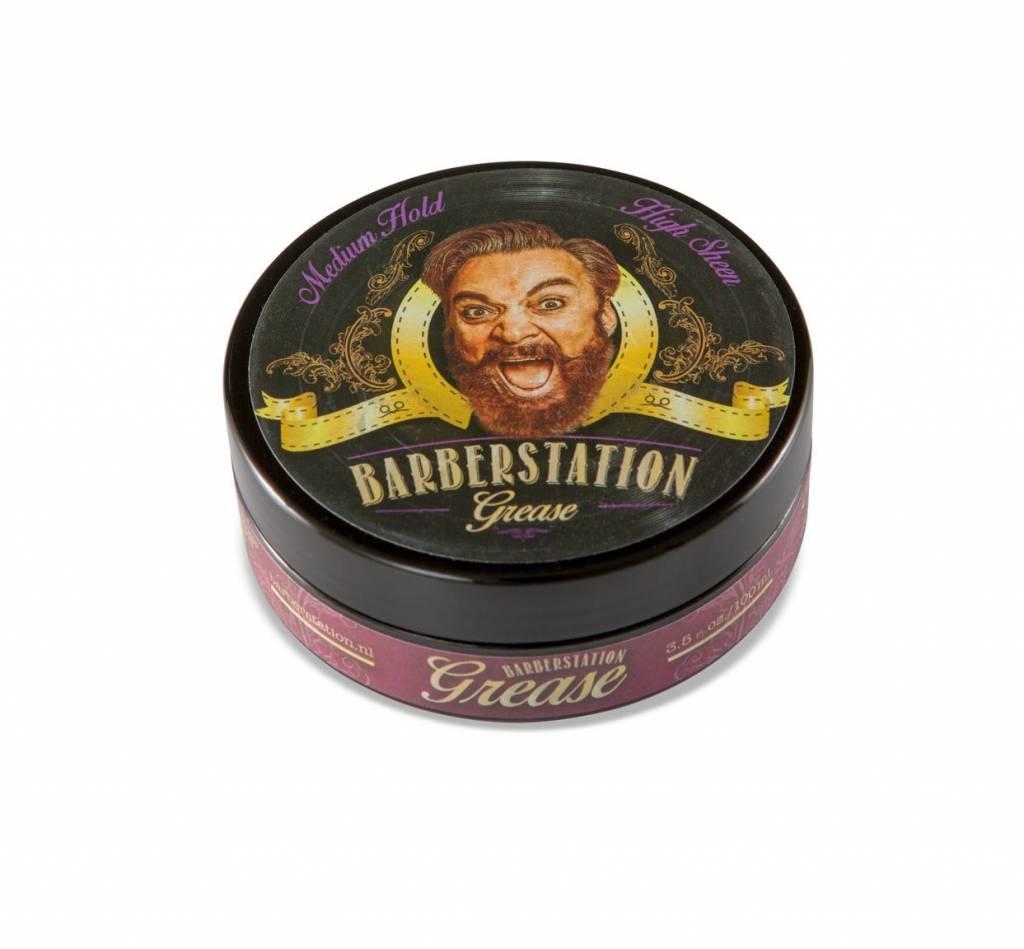 THE COMPANY
The story behind a Dutch brand: Barberstation.
'After years in the hairdressing industry, Jean van Rossum started The barberstation in early 2013. A classic barber/barber where the man can go for his hair, mustache and beard. Jean, originally a drummer/musician under the name Jean Monsou, brought together everything he loves in The barberstation. Traditional hairstyles, the stylish gentleman's look, an authentic interior of almost a century old, a cozy bar and timeless roots music that appeals to every new generation. The hairdressing world could use a bit of Rock & Roll.
Rob Slaats, son and grandson of a hair stylist, soon stepped in as a partner in crime. Rob owns Barberstation Eindhoven and leads The barberstation academy, where you will be trained as a hairdresser/barber. The barberstation has grown strongly with its team of passionate barbers and is now located in 5 locations in the Netherlands. In addition, Jean developed his own product line with his barbers, especially for men, Barberstation grooming for men. The products are now sold like hot cakes from Canada to Taiwan and from France to Denmark. At international hairdresser shows, The barberstation is asked to demonstrate its 'classy rock 'n roll style' and craft.
In 2020, Joep van den Biggelaar opened his own Barberstation in Den Bosch. Joep is also grandson of a real hair stylist/barber. He successfully completed The barberstation academy and after several years of work experience in Barberstation Nijmegen, he had the opportunity to open his own shop via franchise. How beautiful can you have it?! At The barberstation, we would like to give ambition and talent the opportunity to grow!
The success and strong growth of The barberstation has not gone unnoticed. Newspapers and magazines regularly pay attention to this unique old school barbershop.'
Source: Barbershop website.
More info: https://www.barberstation.nl/barberstation-eindhoven/?gclid=CjwKCAjwztL2BRATEiwAvnALchQDQAMLvLv0297edAdDlZE00ogmhpytAcEhEbLjRP2dRyOnq5G6LhoCGJEQAvD_BwE
POMADE IN THE SPOTLIGHT
The grease brilliantine. Not really a brilliantine (for marketing reasons) but a medium oil based pomade. A black, plastic container with screw lid contains this yellow grease. Labeling: stickers. Info on the twist lid: medium hold, high shine in both English and French*, a screaming guy (their logo), the brand and product type, 4 fl oz (120 g) content. All around the container: grooming for men, 4 fl oz (120 g), the brand/type of pomade, hold/shine level, directions. Bottom side: manufacture info, directions in Dutch, the ingredients, bar code and best use before.
*The Netherlands is a neigboring country of Belgium and France. In both countries, French is spoken.
Promo movie: https://www.barberstation.nl/product/barberstation-grease/
INGREDIENTS (minus the Latin)
Petrolatum, bis-diglyceryl polyacyladipate-2, beeswax, hydrogenated rosin, ozokerite, fragrance, phenoxyethanol, ethylhexylglycerin, butylphenyl methylpropional, coumarin, limonene, alpha-isomethyl ionone, hydroxycitronellal, linalool, eugenol.
Barberstation grease is a salon type pomade. Reminds me of Reuzel. You encounter several unreadable, unpronounceable chemicals. What are they for? I will explain.
Bis-diglyceryl polyacyladipate-2: vegetable alternative to lanolin, conditioner.
Hydrogenated rosin: oxidant, resists heat, binder, thickener and stabilizer.
Oxidant: avoids the pomade to become rancid.
Ozokerite: a naturally occurring odoriferous mineral wax or paraffin. In this pomade: microcrystalline wax.
Phenoxyethanol, ethylhexylglycerin: a part of a preservative system. Actually not necessary in an oil based but helps to prolong shelf life.
Butylphenyl methylpropional: synthetic fragrance ingredient with a strong floral scent.
Coumarin, limonene, alpha-isomethyl ionone, hydroxycitronellal, linalool, eugenol: fragrance ingredients (synthetic or natural source).
NOTE: not all chemicals are harmful. Are these? They are applied in legally determined, low, safe concentrations, so not harmful.
SCENT
In the jar: a musky, masculine, cologne. Not so strong in the jar. In the hair: rather subtle. I really dislike it.
STYLING PROCESS
My hair type: medium thick, wavy, somewhat unruly hair, medium length. I wear a contour.
My styling equipment: Denman brush D3, Bixby comb and a boar brush.
Application: 3 big licks into damp hair. Damp hair makes styling much more comfortable and tames my waves.
Scooping: no effort. Finger in, finger out, done.
Breakdown: 1, 2, 3 and the pomade turns into a creamy, somewhat sticky substance. A bit oily/petro sensation.
Working in: pomade is made to apply on dry/drier mane or using with a blow drier. Kind of slides over my hair, offers resistance/grip. Spreading evenly: okay.
Combing back: slight tug and pull. Combing sideways: little tension.
Control: lays down the mane and keeps it to the head without any effort. My cowlicks and waves behaved well. Sides: well tucked away. Height: good for a medium. No flyaways or loose strays. Slick and smooth grease!
SHINE
Barberstation says: high sheen. Medium-high that won't dull.
HOLD
BS: medium hold. For me: a bit less than a medium but not a light medium.
ENDURANCE
Temperatures: 27° C (81° F), sunny, did not sweat much, nothing strenuous but only few walks. Some sag in the front, some waviness. Alright endurance for a medium.
RESTYLING
Restyling is key when using an oil based. Restyles well.
BUILD UP
Don't wash my hair on a daily base. Build up for me: water, tonic and 2 scoops to revive everything. Waxy build up.
WASH OUT
Ease of wash-ability is different for everybody. Pomade washes out in a couple of showers.
SIMILAR POMADE(S)
Pomps not dead OG (original).
Pomps not dead, pompage.
Big slick original (medium).
Interested in oil based pomades only? You can join our 'Oil Based Pomade Enthusiasts' Facebook group – https://www.facebook.com/groups/OilBasedPomadeEnthusiasts/