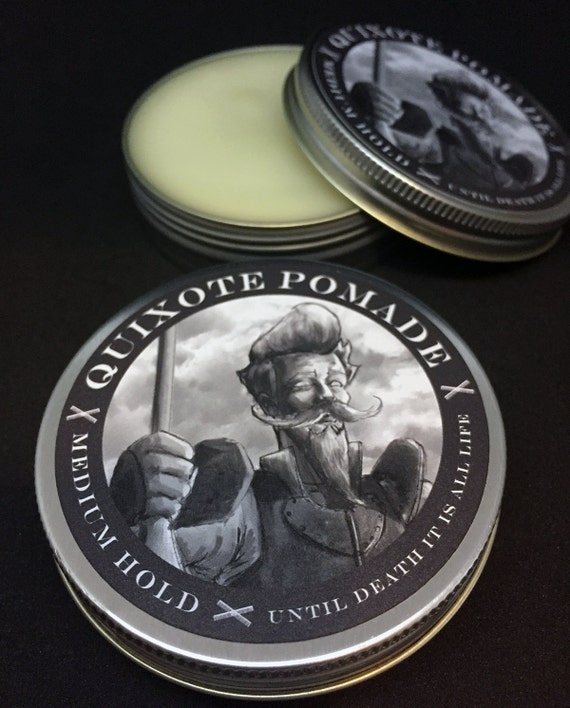 THE COMPANY
Hello! I'm back with another written review. Today's review: Quixote pomade by brewer Amilcar Cifuentes! This Californian brand fabricates handmade grooming and more since 2015. The Quixote theme caught Amilcar's interest, so he named his brand after it. Story, short: Alonso Quijano calls himself 'Don Quixote', loses his mind and thinks he is a knight. He is very confused and acts crazy.
Amilcar produces amazing pomades! He deserves much more recognition! He brews oil based pomades from light to super heavy, offering a variety of yes: 16 scents! I'll engage me to post an overview in the scent section. What captivates me as well (as an ingredients guru), is the fact that Amilcar does not take the same ingredients for each of his holds. Thus not just a tad more wax, less oil or vice versa: no, a completely other formula with other ingredients. This proves he's a passionate, motivated brewer. It would be much easier to adjust a successful formula.
What else does he offer? Water based pomades (the unorthodox type from light to heavy hold), a grooming oil, all sorts of T-shirts, plus he's a craftsman with leather. Amilcar Cifuentes is a versatile brewer, a talented man!
Take a look at its Etsy shop: https://www.etsy.com/shop/QuixotePomade?ref=simple-shop-header-name&listing_id=384479906
Quixote's leatherworks: https://www.etsy.com/shop/QuixoteLeatherworks?fbclid=IwAR3-twqpoCJLecq8fHr5dvDMB5WLbdgho2n9uLIZqAtkKZfHPc5ypSGM2-g
Did a review of his heavy oil based: https://piw74.com/2018/07/12/quixote-pomade-heavy-hold-oil-based-pomade/
POMADE IN THE SPOTLIGHT
This time, it will be his medium oil based. The pomade is poured into a metal tin (3.2 oz/91 g content) with screw top lid to close it off safely. The tin consists of white, grey and black colors: clean design, great artwork. Front side: the image of the confused Quixote, the brand's name, medium hold type and the Quixote slogan: 'Until death, it is all life'. Every word is separated by an X: gives a balanced outlook and the suggestion of two combs over each other. Other side: the co's designation, instructions for use, ingredients list, info on the co and some safety info, a small sticker with the scent. Again with the X, spacing the components. On the background: a mill, the wicks look like combs. Inside, a light yellow pomade.
INGREDIENTS
Microcrystalline wax, lanolin, shea butter, beeswax, petrolatum, almond oil, fragrance.
Ingredients matter to me. I always analyse. That's the reason I dwell on.
Comparing to the heavy hold, you get a pomade that's totally different ingredient wise. The heavy is candelilla based, the medium micro wax based. The heavy contains coconut and vitamin E oil, the medium almond, lanolin and shea butter. The heavy consists of 4 waxes, the medium 2.
SCENT
Opted for the blackberry forest. I experience a pretty fresh, sour blackberry. Intensity: balanced (tin). In my hair: breezes come by. A balanced and okay scent but I'm not really fond of it.
Available scents and their intensity, described by Amilcar:
White russian (cocktail drink): the scent of vodka, coffee liqueur, cream.
Bay rum/white musk: musky top note, then you get the spicy after scent.
Gucci Guilty: mandarin, pink pepper, peach, lilac, geranium, amber and patchouli.
Drakkar Noir: oak moss, lavender, leather, cinnamon, and citrus.
Mandarin Berry: sweet and tart scented.
Countryside: basil, citrus, amber, and musk.
Tobacco: Cuban tobacco. Sweeter than most other tobacco scents.
Cool water: may rose, jasmine, muguet, musk, vanilla, peach, sandalwood, orris and vetiver.
Citrus cologne: a cologne-alike citrus.
Blackberry forest: sour, somewhat fresh blackberry.
Self-explanatory:
Peach/ginger
After the barbershop
Bitter orange/green apple
Cherry vanilla
Mango/apple
Citrus
STYLING PROCESS
My hair type: medium thick, wavy, somewhat unruly hair, medium length. I wear a contour.
My styling equipment: Denman brush D3, Bixby comb and a boar brush.
Application: into damp hair to manage my wavy mop. 3 big scoops suffice. Big: as it is a medium.
Scooping: the top layer is kind of hard. A solid push and you get through. It ribbons.
Breakdown: emulsifying between the hands: a little bit sticky, becoming a somewhat waxy cream without beads. No dry or oily feel.
Working in: slight grip. There's hold, that's clear. Easy medium to distribute evenly.
Combing back: tension noticeable. Combing the hair aside gives some resistance.
Control: the heavy was a bomb in controlling the hair. This medium as well! It laid down the mane and kept it in place. You experience it contains wax but in a balanced manner. Again, slick and comfortable to work with. The sides were slicked down nicely. My cowlick as well. Lifting my front: well, no waves playing around. No strays. This is, again, a nicely refined pomade.
SHINE
Medium sheen: persists.
HOLD
Hold: medium hold level given by Amilcar. I label this a solid medium. There are differences in hold between the medium and the heavy, but it's not a big gap. The medium is a solid medium, the heavy more of a slick firm. The medium will work for thicker, curly and wavy hair, I assume. Try it.
ENDURANCE
Temperatures: around 65 °F (18° C), sunny weather, bit of a cold wind, no real strenuous activities, had a few walks. My hair held up well: no strays, no splits, very little sag (as I was in the sun for a while). This pomade did one hell of a job being a medium! Great! Quixote medium is a 4 seasons pomade. Summer time: better with some build up.
RESTYLING
Restyling is key for an oil based. Restyles well.
BUILD UP
Don't wash my hair on a daily base. Build up for me: water, tonic and 2 scoops to revive everything. No need to use much pomade, it saves you money. Waxy, clean build up.
WASH OUT
The ease of wash-ability is different for everybody. This pomade rinses out rather easily.
SIMILAR POMADE(S)
Grand classic grooming firm.
Ghost town pomade, louche grease.
Lockhart's medium.
Daimon Barber, classic pomade.
Interested in oil based pomades only? You can join our 'Oil Based Pomade Enthusiasts' Facebook group – https://www.facebook.com/groups/OilBasedPomadeEnthusiasts/