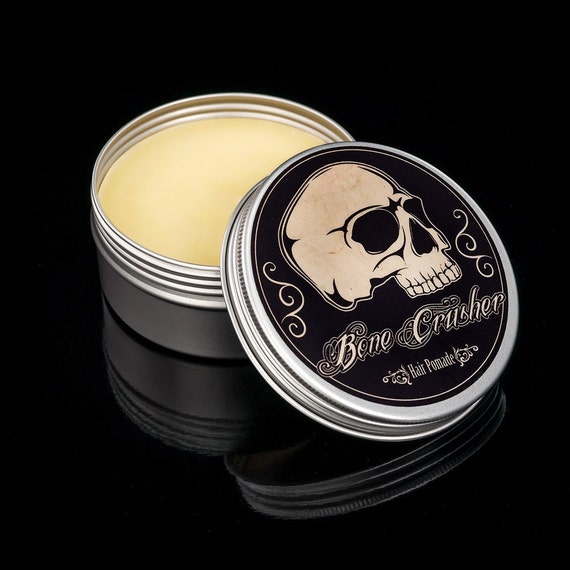 THE COMPANY
Today, I will highlight a grooming company out of Europe and a neighbor of mine: Germany. Pomade I'm gonna be talking about is: Bone crusher hair pomade, a handcrafted pomade and company led by Alexander Müller. Alexander was so kind to send me this heavy oil based for he wanted my opinion and an honest review.
Bone crusher makes other stuff such as a hair oil. More grooming is in the making.
Bonus material (In German), 'Rückkehr eines Klassikers' ('Comeback of a classic'): https://www.youtube.com/watch?v=oaY5lHPcpvY&feature=share
More info: http://www.bonecrusherpomade.com/
POMADE IN THE SPOTLIGHT
Bone crusher hair pomade is poured into a 4.2 oz (120 g) tin with sticker labels. It has a screw cap so one can close it off safely. At the front, there's a skull pictured and yes to match the brand's name. At the rear you'll find the ingredients and some information about the company. The design shows basic black and off-white color patterns with nice lettering. Like its whole, stands out in my bathroom. The hair pomade inside has a light yellow tint.
Quoting: 'Bone crusher hair pomade is a handmade German pomade that combines innovative and traditional values like no other product. Made according to a secret recipe and along European cosmetic rights and standards. All for a reasonable price.'
INGREDIENTS
Petrolatum, beeswax, lanolin, sweet almond oil, menthol, parfum, citral, limonene, lemongrass oil, geraniol, linalool.
Explanation of a few ingredients:
Limonene, citral, geraniol, linalool: scent components among others in the list.
SCENT
Citrus, menthol, lemongrass. Unscrewing the lid, I smelled a fresh citrus-lemongrass. Sniffing further, I noticed the subtle note of menthol = very balanced scent. Once I began styling, I caught more of the menthol freshness. Didn't smear it that near to my scalp, so did not catch the tingling sensation of the menthol as others experienced. Its scent is tart but not abrasive, it is there and accompanies you in a fresh, subtle way, agreeable for my taste. I didn't smell it on myself all day long. About the quality of the aroma: no impression it being artificial, chemical smelling. Dig the fact, the brewer made use of a 'traditional', accessible citrus odeur and made something special of it.
STYLING PROCESS
My hair: I've medium thick, wavy hair. I wear a side part with a contour.
My styling equipment: at the moment, I'm using a boar hair brush, a Denman plus a detangler (Tangle teezer). During styling, I use brushes most.
Application: on slightly damp hair (day 1) to tame my wavy mop and ease styling. 3 average scoops in the bangs as usual. I recommend taking smaller licks at a time: makes styling more comfortable.
Scooping: comes out after a solid push (top layer), did not need my finger nail. Below the top layer, much easier to scoop.
Breaking down: felt a thick, waxy, sticky, non-dry consistency. Breaks down easy after a few hand mixes and becomes creamy without chunks.
Working in: some tug there. Dispersing evenly: okay, small amounts aid. Combing through: there's resistance, no ripping out the hairs issues using a tangle teezer brush. Combs just don't work for me, because they tug and pull and do hate that. Changing direction to part: tug again, got some problems to get my part right due to its wax heavy and sticky properties.
Control: you notice right away this pomade is strong and will provide a solid control because of the present wax and stickiness. Had some hairs sticking up due to this but that's something I also get after my hair is cut shorter. After combing through, no single hair did go anywhere. No loose hairs for it's sticky/not dry. Bone crusher hair pomade controlled my waves and cowlicks well. No splits. Sides kept down well.
SHINE
Low sheen from the start and for the rest of the day.
HOLD
Meant to be a heavy strength. For me: a strong hold, a firm. I mostly need firm/heavies using water based pomades but a firm-medium does the job great using an oil based petro. This one is a bit too waxy for my needs but does a great job keeping everything together very well! No struggle with strays, waves or splits. My waves came through slightly.
ENDURANCE
Tested in: rainy weather (umbrella protected), windy, temperatures around 50° F (10° C), no heavy-duty at all. Bone crusher provides some great endurance. People with thick, wavy, curly, stubborn hair: this is your pomade!
RESTYLING
No real need to, just a few touch ups. Restyling goes easy: no tug and pull because it softened up a tad. Hair keeps its great hold. No sag or flyaways afterwards, slight waviness.
BUILD UP
Waxy. I put some hair tonic on damp hair and used my tangle free brush. Styling went really well and not that uncomfortable being so heavy in the wax/stickiness department. I could style in about 5 minutes which is quick for me! Build up improves every aspect of the styling.
WASH OUT
4 washes with shampoo. Hair felt soft afterwards.
SIMILAR POMADE(S)
Shear revival, music or misery.
Fettkopp strong.
Interested in oil based pomades only? You can join our 'Oil Based Pomade Enthusiasts' Facebook group – https://www.facebook.com/groups/OilBasedPomadeEnthusiasts/