THE COMPANY
Today another review and what's it going to be? Big slick pomade co, heavy hold pomade. Brewed in small batches by husband and wife Vincent Minervino and Magdalena O'Connell from Freehold, New Jersey. This is a petro based pomade. What about Big slick? I quote: 'Our products are inspired by classic barber shop, music, hot rod & casino culture … for that big, slick look!'
Big slick is an infamous pomade company on the same level as Pomps Not Dead, Lockhart's, O'Douds and Shear revival. They've brewed a light, medium (original), firm, heavy and even a super heavy pomade. Their latest addition is a gel pomade with a medium-firm hold. All products have their own tin color-design and pomade color. Interesting too are the scent options.
Vincent and Magdalena wanted to create more and a hair tonic, beard oil, a Lady Luck pomade/serum came to life! In their online shop you can buy combs, leather Quickdraw belt loop keychains too: a versatile company!
The layout has changed. The pomade has slightly less hold, is slicker. This is one of my favorites.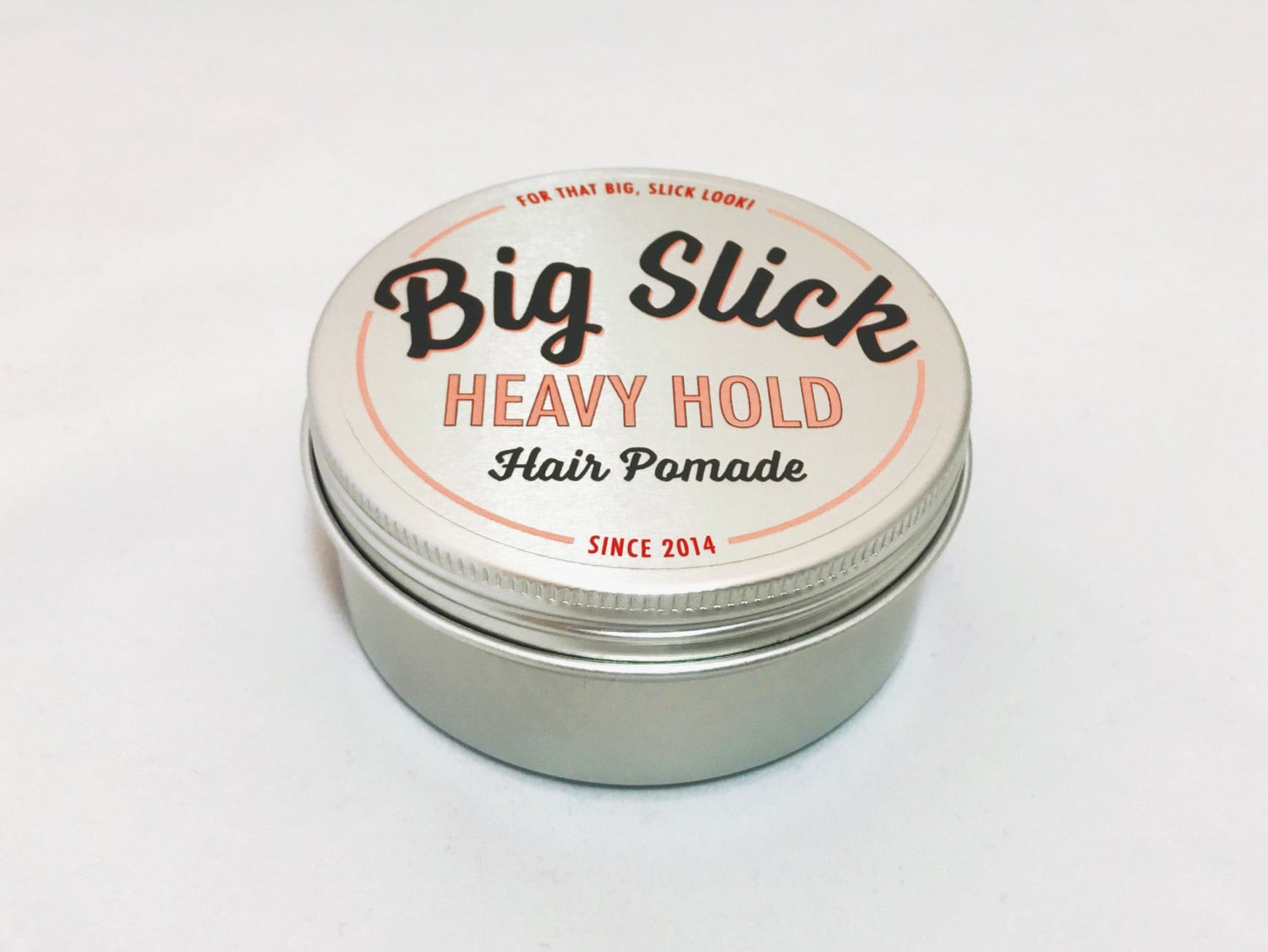 More info: http://www.bigslickpomadeco.com/
POMADE IN THE SPOTLIGHT
The product is poured into 3.5 oz (100 g) tins. Comes in a light pink color, same as the tin's main color. Don't worry, your hair won't turn pink nor your pillows!
INGREDIENTS
Petrolatum, microcrystalline wax, beeswax, lanolin, avocado oil, castor oil, fragrance, color.
If you're afraid of petrolatum, Big slick is a good starting point to overcome. The pomade is not so greasy and clean to use. There some conditioning oils in it such as: lanolin, avocado oil and castor oil.
SCENT
Dirty mint: a cocktail of spearmint, eucalyptus, lavender, sage and dirt. The scent has a dirty undertone but not a stinking one. Describing the smell: like a fresh breath after you brushed your teeth or someone is chewing on a minty gum, freshness. The scent is strong in the jar and in the hair it lingers all day, not overbearing. I had to get used to it being honestly the first day. The second day, I just noticed some more subtle whiffs of it, a few times. It has become one of my absolute favorite scents! If you do not prefer minty scents then there's the cherry sandalwood option to choose from. I didn't try out this scent but this combination sounds special and amazing.
STYLING PROCESS
My hair: I've medium thick, wavy hair. I wear a side part with a contour.
My styling equipment: at the moment, I'm using a brush with wild boar hair, a Denman brush plus a wide tooth comb (detangler). During styling, I use brushes most.
Application: 3 normal sized licks into damp hair were enough.
Scooping out: some force (waxy top layer) to get it out.
Breakdown: some resistance, a wrinkling, waxy texture that breaks down after some good rubs.
Working in: goes in easy, spreads evenly easily, no tugging or pulling noticeable.
Combing back: very little tug, pull.
Control: provides a solid, a bit of a sticky grip. This heavy tames my waves, sides, cowlicks very well. Nice, clean hair shape without flyaways or strays, slick it is certainly.
SHINE
Somewhat more than a natural shine, all day long present.
HOLD
Heavy hold for sure.
ENDURANCE
After my initial styling, hair maintained shape perfectly: no strays, no flyaways, hair went nowhere. Held hair in place the whole day and straightened waves, tamed my cowlicks, held down the sides nicely, no splits in the front or elsewhere. Wind, rain, cycling or a walk didn't mess up the hair. Didn't test in the heat but this will survive! At the end of the day: nearly no flyaways nor strays, no sagging! Lightweight feel in the hair, soft, not greasy.
RESTYLING
No problem. No loss of hold after restyling! Waves didn't show through, sides held down well. No resistance when restyling (Denman brush). I didn't need to recomb, hair didn't move!
BUILD UP
A not so greasy, solid build up. Days after: one or two licks extra, ready. Big slicks build up is a great one!
WASH OUT
3-4 shampoos to wash out with shampoo. After the rinse, my hair felt soft.
SIMILAR POMADE(S)
Lockhart's, goon grease.
Tremolo's, ace's high.
Quixote heavy.
Be strong.
Interested in oil based pomades only? You can join our 'Oil Based Pomade Enthusiasts' Facebook group – https://www.facebook.com/groups/OilBasedPomadeEnthusiasts/