Company – product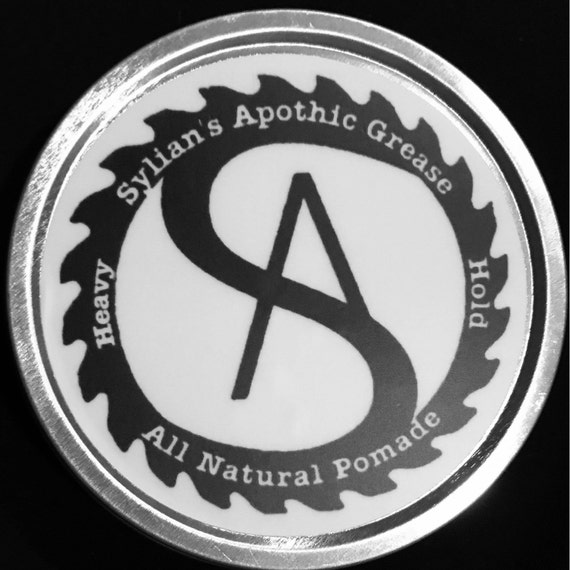 Preface: Apothic grease heavy hold is similar to the also reviewed Savage grease heavy hold, except for the scent. The reviews are about the same with some additions and changes here and there. Review link – https://piw74.com/2017/10/06/sylians-apothecary-savage-grease-heavy-oil-based-pomade/
Gonna focus again on Sylian's apothecary grooming company out of Texas (Edinburg) and consisting of brewers Carlos Ian Vela and Sylvia Vela. Today's I will have a look at the Apothic heavy hold, again a legit all natural beeswax based heavy hold pomade. They kindly send me this for free. Thanks a lot, Carlos Ian and Sylvia!
More details on the Apothic grease heavy by the brewers: 'Sylian's Apothic grease heavy hold is a part of our new line of products. Apothic is an old word that used to describe someone who gives medicine's. Since I am a health care professional, I figured, why not call my business an apothecary. The majority of my pomades are all natural. Apothic now presently means "Stunning" or "Beautiful".'
Other pomades from Sylian's apothecary:
An all natural light (Apothic grease)
2 all natural mediums (Apothic grease)
Another all natural heavy (Savage grease)
An all natural heavier heavy (Asylum grease)
A heavy petro (Pandemonium grease)
Other care products: an all natural deodorant.
Other reviews on Sylian's apothecary pomades:
More info – https://www.etsy.com/shop/SyliansApothecary?ref=l2-shopheader-name
My hair profile
I've medium thick, wavy hair. I wear a side part with a contour. At the moment, I'm using a boar hair brush, a Denman plus a detangler (Tangle teezer). During styling, I use brushes most.
Presentation
Comes in a 4 oz tin with sticker labels on both sides and a screw top lid. Design is simple, not overloaded, with a black and white color pattern. Pomade itself has a light yellow outlook as the Savage grease.
Ingredients
Beeswax, Lanolin, Shea Butter, Castor Oil, Jojoba Oil, Coconut Oil, Essential Oils.
The brewers made a legit all natural pomade. They made use of very healthy components for both hair and skin. Many pomades are called 'all natural pomade'. What we see mostly are natural pomades containing ingredients derived from natural sources, f.e.: hydrogenated castor oil (castor wax): chemical modified castor oil. Other example: hydrogenated soybean oil (soy wax). Are these bad for the hair? No, but I just prefer 100 percent natural pomades.
Scent
The brewers describe it as having a clean, musky, woodsy scent. For me, in the jar: I sniff thyme, eucalyptus, tea tree notes. These smell tart, medical, herbal and again in the line of the Ominous 'Embalmer's grease' pomades. Not in love with it at all. In the hair: less tart, not overpowering. Scent evaporated throughout the day: so if you don't dig it, your issue is gone.
Application process – result
Application for me on damp hair: works the best for my wavy hair, especially when using oil based pomades. 3 around average licks was what I needed. Scoop-ability: for an all natural firm-heavy oil based, it scoops okay (top layer) and much easier below that top layer. You have to use some pressure and it comes out without fingernail or blow-dryer tricks. Taking smaller scoops is recommended to facilitate the process. Breakdown: a few waxy clumps at the beginning but mixing further between the hands, these vanish to obtain a creamy, not so dry, not that sticky texture that goes in well. You'll feel some tension but on the comfortable side of the spectrum for a strong strength. Spreading evenly: goes well as well. Slicking back with my Denman brush: scarce resistance, workable. Changing the hair's direction and making a part: tad of innocent tension. Let me notice I always use brushes and a tangle teezer to reduce tug. Important to explain this pomade's beauty is that Carlos makes use of 1 natural harder wax (beeswax) and lanolin (fat from the wool of sheep). If you use a second hard, all natural wax (to make it heavier) such as candelilla or carnauba, your pomade will be less easy to scoop and break down plus feels drier. Control wise: very good results. It laid down my hairs at once, kept them in place without being that sticky. Sides were slicked down well. There's a nice amount of slickness that prevents strays showing through, no dry waxy feeling for a strong product, shortly: a good balance of waxes, butter and oils for sure. My cowlick area was tamed from the start and the front did not become wavy or saggy. Lifting my front went very well and quick, no hassle. Weight in the mane: light to light-medium and as a result of that very decent volume possible. Styling went quick and comfortable. How did my hairdo look? Very nice and clean, with a good average height in the front! Looking back after about half an hour: no strays or splits to discern. A tiny bit of sag and a very clean, neat hair shape! Satisfied and impressed.
Shine
Medium says the brewer. A notch below medium, a healthy shine. Did not evaporate.
Hold – endurance
Heavy hold is printed on the label. More of a heavy medium for me. It keeps everything together very well. It softens a bit during the day: some tiny sag. A few strays, clean managed waves at the end of the day. I wore it in sunny weather: temperatures around 70° F, no wind or rain. Had a solid walk and my hair was still in place = good endurance.
Restyling
Easy. Waves came through a bit. Felt kind of airy, light and clean. Hold decreased slightly.
Build up
For me: some tonic added on wet hair and then a few scoops on top. I don't rinse or wash my hair every day. Feeling it gave me: clean, manageable, workable. Feels healthy, soft and agreeable in the mop.
Washing out
Easy to wash off according to the brewer. Pomade takes around 2 washes to rinse out completely and providing you with soft, healthy hair and scalp! Wash out all depends on your hair type, products used and the build up.
Hair, scalp issues
None.
Similar pomades
A firmer version of The mail room barber, Nolde forest. Nolde in feel and results, easy style-ability.
Firmer versions from The beer can professor and The mail room XX natural pomade which are identical to Nolde.
Interested in oil based pomades only? You can join our 'Oil Based Pomade Enthusiasts' Facebook group – https://www.facebook.com/groups/OilBasedPomadeEnthusiasts/