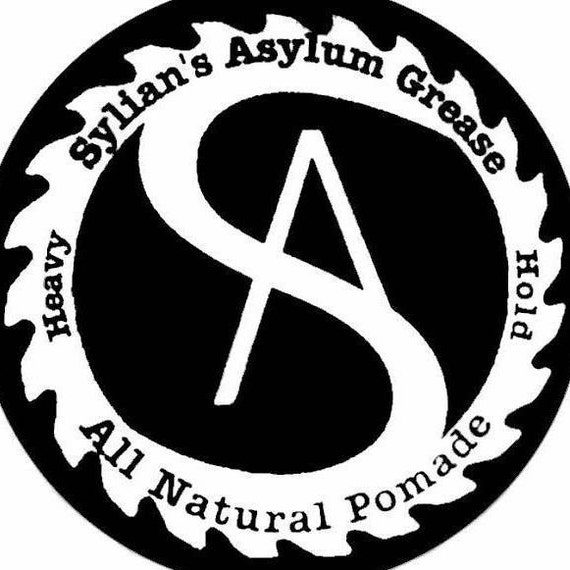 Company – product
Today, I travel back to Texas and revisite Sylian's apothecary, grooming company consisting of brewers Carlos Ian Vela and Sylvia Vela. I will focus on Sylian's, Asylum grease, again a legit all natural beeswax based that comes in a heavy hold but heavier in comparison to their other heavies. They kindly send me the Apothic grease heavy which will be reviewed as well. Thanks again Carlos Ian and Sylvia!
Asylum grease pomade, quoting the brewers: 'This is Sylian's Asylum grease. 'Asylum' or 'Crazy' grease. It is the newest and 'heaviest' hold on our line of natural pomades. This is an oil based pomade. It offers an extra heavy hold with a medium shine. It features a clean and crisp tea tree scent. This pomade very easily washes out with water and a bar soap, not shampoo. Remember: this is our ASYLUM or 'crazy', 'insane' grease. This is the pomade that I personally use every day to tame, control, and style my crazy, thick, unruly, wavy hair. Anyone can use this product no matter what your hair type is.'
I was thinking: where does 'Sylian' stand for, why this name for their company? Then I saw the light: Syl (Sylvia) en Ian (Carlos Ian) = Sylian = nice twist!
Other pomades from their line:
An all natural light (Apothic grease)
2 all natural mediums (Apothic grease)
Another all natural heavy (Apothic grease)
A heavy all natural (Savage grease)
A heavy petro (Pandemonium grease)
They also made an all natural deodorant.
Other Sylian's pomades I did a review on:
More info – https://www.etsy.com/shop/SyliansApothecary?ref=l2-shopheader-name
My hair profile
I've medium thick, wavy hair. I wear a side part with a contour. At the moment, I'm using a boar hair brush, a Denman plus a detangler (Tangle teezer). During styling, I use brushes most.
Presentation
Comes in a 4 oz tin with sticker labels on both sides with screw top lid. Design is simple, not overloaded. The mostly black tint enhances the craziness/asylum aspect. Asylum pomade inside comes in a dark yellow hue.
Ingredients
Beeswax, Lanolin, Shea Butter, Castor Oil, Jojoba Oil, Coconut Oil, Essential Oils.
Same set of all natural ingredients as the Savage grease but with more wax, less butter and fewer oils. Again a legit oil based pomade without any chemical modified ingredients such as castor wax (hydrogenated castor oil) or soy wax (hydrogenated soybean oil) to name a few.
Scent
Tea tree: clean and crisp. Again an essential oil with therapeutic advantages for hair and skin. Tea tree has properties such as: disinfectant, prevention against molds, anti-viral and anti-bacterial. Scent intensity in the jar: tart, medical, spicy. In the hair: less intense but present in a not overbearing manner. It slightly reminds me of the Ominous style co, 'Embalmer's grease' line scents. Not a big fan of the tea tree odor but I can appreciate its freshness. The smell faded and did not catch much of it anymore in the middle of my day.
Application process – result
Usually it's 3 scoops on damp hair for my moderate, unruly waves. With Asylum grease, I had to take 5 very small licks due to the very tough top layer. It demands fingernail scrape techniques to scoop out little amounts at a time. Advantage: better to divide and coat. Underneath the top layer, still difficult to get it out. You'll notice right away that the Asylum grease is worth its 'crazy, asylum like' nickname! Such a heavy, waxy pomade. Breaking down: power, a few clumps, more power, done: no hassle. Feels rather dry, waxy and there's a tad of a buttery sensation to discern. Working into the mop: resistance, tug but did no 'rip out your hairs' one. Combing back: my Denman did the job and I experienced small amounts of tension. Mixing evenly went alright. Changing the hair's direction to part: tension again. All normal things for a heavy strength product. Expect some strong control that lays down the hairs in a second. Sides were slicked down okay but popped out right after. Really strong but not uncomfortable or unworkable in my book. My cowlicks were tamed, the waves were managed quite fast. Does not feel overly dry, not sticky so not the slickest. My lifted front was clean and wave-free at the start, with average height. Medium weight sensation in the hair. I did not get that much of a volume. Hair do: not the best. My hair was a bit hilly alike (waves came through a smidgen) and had to recomb the front and rear several times as of my hair was fighting back the strong power of the wax. Took me much more than average time to style. Looked back after a while and my hair looked saggy, waves came through more and several flyaways popped out.
Shine
Medium according to its creators. More of a neutral sheen in my hair. Stayed this way.
Hold – endurance
Described as a heavy hold but heavier than his other all natural heavies. To me: I can define the Asylum grease as a very heavy strength. Endurance wise: did not work that well for me. Hair started to sag and waves showed trough, they fought back instead of being controlled for longer stretches of time. All this said, can I conclude this is a bad pomade? The answer is: no. Asylum grease pomade is ideal for people with very unruly curly, wavy hair for sure! Mine is just a tad unruly and wavy. The firm hold Savage grease did a much, much better job for my mane. I wrap up with a variation on the principle of: 'less is more': less strength for my mop to get more out of the styling.
Restyling
No tug. My hair lost hold. Wavy mane. Had to deal with loose hairs. Felt dry.
Build up
Did not build up with it. What stayed in the hair felt clean, airy and a bit dry (not drying out the hair). Provides a good base to build on further with less heavy pomades the following days or as a base that can be repleted with less strong holds.
Washing out
Washed out relatively easy: around 2 showers and all was out. It left my hair soft and healthy.
Hair, scalp issues
None.
Similar pomades
Shear revival: Music or misery, heavy hold oil based.
Ominous style co: Embalmer's grease heavy hold.
Interested in oil based pomades only? You can join our 'Oil Based Pomade Enthusiasts' Facebook group – https://www.facebook.com/groups/OilBasedPomadeEnthusiasts/