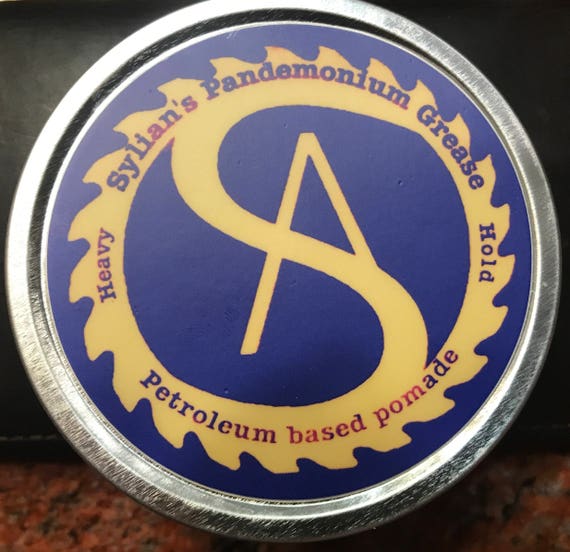 Company – product
Today's focus will be again on Sylian's apothecary out of Texas (Edinburg) with Carlos Ian Vela and Sylvia Vela as its brewers. I will highlight Pandemonium grease, a petrolatum based (oil based) heavy hold. They kindly send me this pomade for free so that I could review it for you all. Thanks, Carlos Ian and Sylvia!
Quoting the brewers on their Pandemonium grease: 'For those who asked for a petroleum based pomade; well, here it is at last. This pomade offers a heavy hold and a medium to high shine. Despite it being petroleum based it still washes out quite easier than many other oil based pomades out there. Just use a bar soap and water then conditioner afterwards. I chose to call this my "Pandemonium" grease because if you have "crazy," unruly hair like I do, it will most certainly tame it.'
I was thinking: where does 'Sylian' stand for, why this name for their company? Then I saw the light: Syl (Sylvia) en Ian (Carlos Ian) = Sylian. Nice twist!
Other pomades in the Sylian's apothecary line:
An all natural light (Apothic grease)
2 all natural mediums (Apothic grease)
2 all natural heavies (Savage grease and Apothic grease)
An all natural heavier heavy (Asylum grease)
They also made an all natural deodorant.
I did review some other pomades from them:
More info – https://www.etsy.com/shop/SyliansApothecary?ref=l2-shopheader-name
My hair profile
I've medium thick, wavy hair. I wear a side part with a contour. At the moment, I'm using a boar hair brush, a Denman plus a detangler (Tangle teezer). During styling, I use brushes most.
Presentation
4 oz tin with sticker labels on both sides and screw top lid. Design is simple, not overloaded. The Pandemonium pomade comes in a dark yellow beeswax-lanolin color.
Ingredients
White Petrolatum, Beeswax, Lanolin, Fragrance.
Simple, basic list of ingredients = like the old times. In the spirit of the iron society pomades.
Scent
Citrus. A smidgen different as the 'Savage grease' which I reviewed as well. Pandemonium smells cleaner/fresher in my opinion, I prefer this one. They put in fragrance citrus oil I suppose. The all natural citrus of the Savage grease made use of essential oil. Odor in the jar: tart and clean. In the hair: less strong, more subtle. Experienced a couple of whiffs now and then but less than the Savage grease citrus. Around the middle of the day, I didn't catch anything anymore.
Application process – result
I always apply my pomade on damp hair to tame the waves and it makes styling a lot easier and comfortable, especially with heavier pomades. 3 scoops, average sized went in. Scooping out is easy: push and the pomade comes out. Breakdown: breaks down in a few seconds into a creamy substance. Sticky + slick feel, no heavy hold sensation, more of a medium hold experience. Bringing in: tad of resistance, spreads well throughout the mane. Combing through: slight tension using my Denman brush. Changing the hair's direction to form a part: easy. Sticky feel and shows a high shine for its hold type. I thought: can't be a heavy, more of a medium to firm, more on that later. Control wise: keeps the hairs together and tamed my cowlicks. Sides were slicked down well. Lifting my wavy front went well and the waviness was managed okay from the start. Feels slick: you don't have issues with loose strays, hairs sticking up. Does not tend to give you splits. Light-medium weight in the hair, helps to obtain decent volume. How did my mop look? Nice, classy, classic and shiny, clean but fragile in my opinion for the higher the shine, the lower the hold and endurance and the more free waves. Hair height was average. So, I revisited the mirror after 30 minutes and a few hairs on the side/rear (cowlick area) were out of place but easy to fix. Rest of the mop was untouched, no sag, no waves = good thing. Styling time: faster as usual, good thing as well. Impressed again.
Shine
Medium-high according to the brewers. And yes, second that. Pandemonium grease provides great shine till the end of the day. You get that greasy look of the 30-50's. But it is not that greasy of a product.
Hold – endurance
'Heavy hold' is printed on the tin. For me less than a heavy: more of a medium-firm or solid medium. As described above, I felt insecure of the hold because of its high shine look, easy scoop-ability and breakdown and the not heavy feel. But Pandemonium grease managed alright: no stubborn waves or sag, these were minimal to non-existent. The brewers succeeded to reach a fine, subtle balance between good hold and good shine. I'm impressed = a pomade brewed with the 30s-50s in mind. Comparing it to other greases, I get Lockhart's Goon grease to mind. Pandemonium grease is sort of Lockhart's Goon grease with less hold and more sheen. They act very similar at least. The circumstances I tested it in: colder autumn temperatures (around 60), rain (umbrella protected and a few rain drops on the head) and some active sport on my bike. The hair survived greatly: it looked as good as before!
Restyling
I was scared to restyle my front as if I do that with a shiny type of pomade, my waves show through and I dislike that, tends to become unclean and messy. How did this one do? Was surprised that my waves didn't show through intense. I could restyle and retain a nice hairdo with some nice hold on top of that.
Build up
I just add product the days after, no washes involved: 'dry build up'. No real greasy petro/vaseline feel. Build up provided me with more hold the day after.
Washing out
Around 2 shampoos: incredible! I wore a gel pomade (Reuzel red) for 1 day, on top of Pandemonium to degrease. I rinsed my hair and noticed a lot came out with just water due to the gel pomade. I took my J.R. Liggett's soap bar (all natural shampoo bar) and after rinsing, my hair was clean! So impressed! Hair, scalp felt alright after that.
Hair, scalp issues
None.
Interested in oil based pomades only? You can join our 'Oil Based Pomade Enthusiasts' Facebook group – https://www.facebook.com/groups/OilBasedPomadeEnthusiasts/