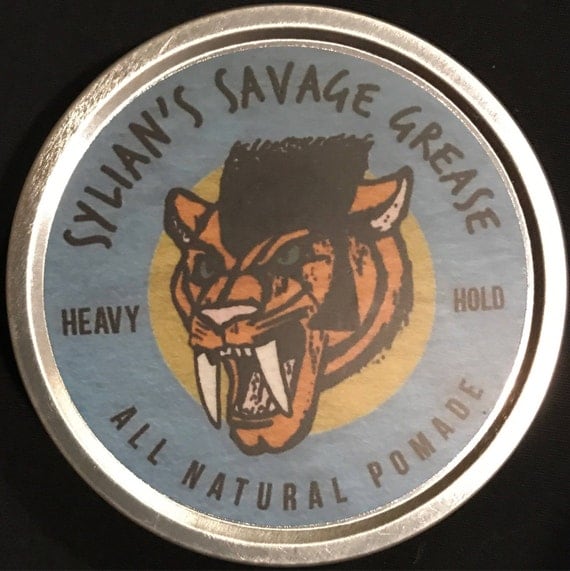 Company – product
Preface: Savage grease heavy hold is similar to Apothic grease heavy hold except for the scent. The reviews are the same with some adds and changes here and there. Here the link to the heavy apothic grease – https://piw74.com/2017/10/15/sylians-apothecary-apothic-grease-heavy-hold-oil-based-pomade/
Today's focus will be on Sylian's apothecary, grooming company from Texas (Edinburg), consisting of brewers Carlos Ian Vela and Sylvia Vela. Today's it's time to review Savage grease, a legit all natural beeswax based heavy hold pomade. I read a post of the company on the facebook group 'Everything Pomade' (EP) and after exploring the ingredients, I came across many similarities with my own all natural brew, one I'm developing for myself. I was interested in their approach and ordered Savage grease. They kindly send me a second pomade for free: Pandemonium petro based heavy. Thanks, Carlos Ian and Sylvia!
More details on the Savage grease pomade by the brewers: Sylian's savage grease is a unique heavy hold, oil based pomade that is made of all natural ingredients. After years of trying different pomades I was never truly happy with any products. I am a board certified health care professional (Physician Assistant) PA-C. I have been practicing family medicine for the past eleven years in south Texas and my passion is with the health of my patients and now my customers. This pomade contains no petrolatum; which, I know some pomade enthusiasts prefer. My "Pandemonium" grease is petrolatum based. My pomade is first and for most a heavy hold. The reason I developed this pomade is that I have crazy, thick, wavy hair that will not style with just any product. After trying many pomades, I finally decided that an oil based, heavy hold pomade with no petrolatum was the best option for my hair. The only problem that I consistently came across was flaking and my hair turning whitish with other heavy oil based pomades. Although I was satisfied with the hold, the constant flaking drove me crazy. Not long after I decided to embark on a long and rigorous journey to develop my own product that would be all natural, have a heavy hold; and, most importantly not flake. At last, I am finished. My pomade is made to order right from my own home. I think it is important to say that my pomade is always fresh and made in small batches. Further more, my pomade is not just meant for people with unruly hair. Positively, anyone can use it with confidence knowing that they will have an all natural hair product that is good for the nutrition of your hair. So whether I am busy seeing patients; or, making pomade, you can rest assure that my passion is to help provide good health to everyone. Oh, and before I forget, my pomade washes out easily with shampoo and water.'
Other pomades in their line:
An all natural light (Apothic grease)
2 all natural mediums (Apothic grease)
Another all natural heavy (Apothic grease)
An all natural heavier heavy (Asylum grease)
A heavy petro (Pandemonium grease)
They also made an all natural deodorant.
Reviews on other Sylian's pomades:
More info – https://www.etsy.com/shop/SyliansApothecary?ref=l2-shopheader-name
My hair profile
I've medium thick, wavy hair. I wear a side part with a contour. At the moment, I'm using a boar hair brush, a Denman plus a detangler (Tangle teezer). During styling, I use brushes most.
Presentation
Poured into a 4 oz tin with sticker labels on both sides and screw top lid. Design is simple, not overloaded. Savage pomade has a light yellow color.
Ingredients
Beeswax, Lanolin, Shea Butter, Coconut Oil, Castor Oil, Jojoba Oil, Essential Oils.
The brewers created a legit all natural pomade and made use of very healthy components for both hair and skin. Many pomades are called 'all natural pomade'. What we see mostly are natural pomades using ingredients derived from natural sources, f.e.: hydrogenated castor oil (castor wax): chemical modified castor oil. Other example: hydrogenated soybean oil (soy wax). Are these bad for the hair? No, I just prefer 100 percent natural pomades.
Scent
Fresh citrus scent. Diving into the tin, I sniffed its tart citrus right away. But it was not overpowering once it was in my mop. I do like citrus but I personally do not entirely dig this one but it doesn't bother me either. After a few days of use, I didn't notice it anymore. Citrus is a safe smell and accessible for a wide public so I can understand their choice. Plus citrus essential oil has some conditioning, nurturing properties as it stimulates hair growth and can help to reduce/slow hair loss. If you prefer another scent: there's the heavy apothic grease with a musky/woodsy scent and a heavier heavy (Asylum grease) with tea tree. Scent throughout the day: breezes came and breezes went. Towards the middle of the day, no scent anymore.
Application process – result
Application for me on damp hair: works the best for my wavy hair, especially when using oil based pomades. Scooped 3 around average licks. Scoop-ability: for an all natural firm-heavy oil based, this one scoops okay (top layer) and much easier below the top layer. You have to put some pressure on there and it comes out. Taking smaller scoops at a time is recommended to facilitate the process. Breakdown: a few waxy clumps at the beginning but mixing further between the hands, these vanish to obtain a creamy, non-dry, not that sticky texture that goes in well. You'll feel some tension but on the comfortable side of the spectrum for a strong strength. Spreading evenly: goes well as well. Slicking back with my Denman brush: scarce resistance, again workable. Changing the hair's direction and making my part: tad of innocent tension. Let me notice I always use brushes and a tangle teezer to reduce tug. Important to explain this pomade's beauty is that Carlos makes use of 1 natural harder wax (beeswax) and lanolin (fat from the wool of sheep). If you use a second hard, all natural wax (to make it heavier) such as candelilla or carnauba, your pomade will be less easy to scoop and break down and has a much drier feel. Further, control wise: very good results here. It laid down the hairs at once, kept them in place without being too sticky. Sides were slicked down well. There's a nice amount of slickness that prevents strays showing through, no dry waxy feeling for a strong product = shortly: a good balance of waxes, butter and oils for sure. My cowlick area was tamed from the start and the front did not become wavy or saggy. Lifting my front hairs went very well and quick. Weight sensation in the mane: light to light-medium and as a result of that very decent volume possible. Styling went quick and comfortable for me. How did my hairdo look? Very nice and clean, slick, with some good average height in the front! Looking back after about half an hour: no strays or splits to discern. A tiny bit of sag and still a very clean, neat hair shape! Satisfied and impressed.
Shine
Medium, says the brewer. To me: a notch below medium, a healthy luster. Shine didn't fade.
Hold – endurance
Heavy hold is printed on the label. It is more of a heavy medium for me. It keeps everything together very well and feels rather light. It softened up a bit during the day with tiny sag as a result of that. A few strays, clean managed waves at the end of the day. I wore it in Belgian rather warm autumn weather: temperatures around 55-60° F, windy, rain (umbrella protected hair), no heavy-duty. Endurance is good.
Restyling
Easy to do. Waves came through a bit. Felt kind of airy, light and clean. Hold became a bit less.
Build up
For me: some tonic added on wet hair and then a few scoops on top. I don't rinse or wash my hair every day. Feeling it gave me: clean, manageable, workable. Feels healthy, soft and agreeable.
Washing out
Easy to wash off according to the brewer. Pomade takes around 2-3 washes to rinse out completely and providing you with soft, healthy hair and scalp! Wash out all depends on your hair type, products used and the build up that was in.
Hair, scalp issues
None.
Similar pomades
A firmer version of The mail room barber, Nolde forest. Nolde in feel and results, easy style-ability.
Firmer versions from The beer can professor and The mail room XX natural pomade which are identical to Nolde.
Interested in oil based pomades only? You can join our 'Oil Based Pomade Enthusiasts' Facebook group – https://www.facebook.com/groups/OilBasedPomadeEnthusiasts/