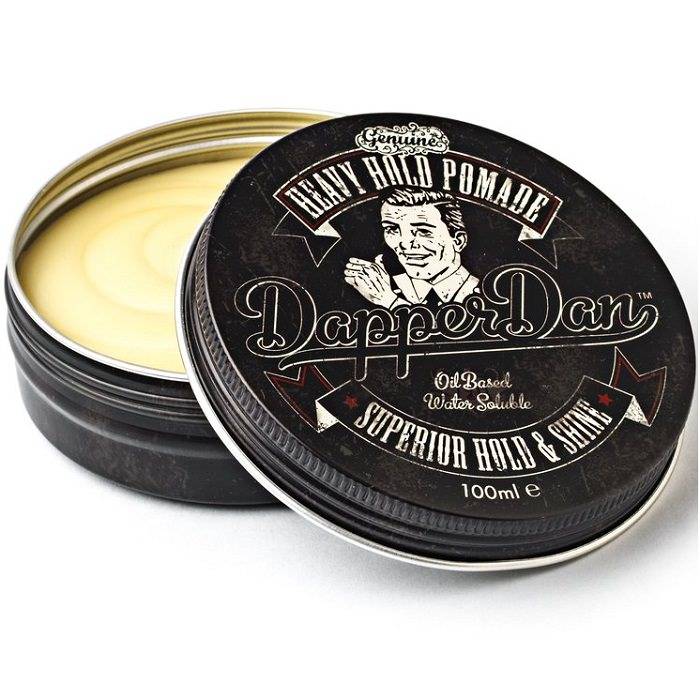 Company – product
My review of today brings us to the United Kingdom to showcase a pomade from Dapper Dan. They released a heavy oil based pomade, the latest addition to the DD family. They claim it be a hydrophilic oil based or being water-soluble … .
About Dapper Dan, I quote: 'Dapper Dan was founded in Sheffield, England in 2011; born of frustration with the less than adequate products available to gentlemen to fulfill their styling needs.
Our products were developed over a ten-year period by professionals in the trade, determined to create a unique and compact styling range. In 2012, Dapper Dan matt paste was launched and quickly became the most versatile matte styler we had ever experienced. In 2014, we added a deluxe pomade and a matte clay to the range. We firmly believe that with 3 well selected and painstakingly developed products, there is no styling requirement that can not be met.
We offer our range direct to our customers through this very website, and opportunities to become a reseller are only a phone call away. We pride ourselves on customer service and will do what we can, whenever we can in order to satisfy our customers' needs.'
The heavy hold oil based is perfectly balanced for all pomade lovers. Oil based and heavy yet water-soluble due to being petrolatum free. This stuff offers superior hold and shine without the build up! No more greasy pillows! Washes out first time, every time!
More of DD: beard oils, shave products, aprons and some other stuff.
Bonus 1, Vintage 1930s Dapper Dan commercial – https://www.youtube.com/watch?v=tlqsmT9XdaM
Bonus 2, Dapper Dan, Vintage 1940s pomade commercial –https://www.youtube.com/watch?v=mphKsy3DxG0
More info – https://dapperdanuk.com/
NOTE: don't confuse this with the Dapper Dan pomade brand (Yes ma'am it's Dapper Dan) made in Germany which reflects and pursues the classical 1920-'50 styles.
My hair profile
I've medium thick, wavy hair. I wear a side part with a contour. At the moment, I'm using a boar hair brush, a Denman plus a detangler (Tangle teezer). During styling, I use brushes most.
Presentation
Dapper Dan heavy hold comes in the European standard 100 mg (3.5 oz) aluminum tin with screw top lid. Color scheme is a light black/dark gray – white with the Dapper Dan face on, in the same vein as the other products. Everything is printed on. Has a nice somewhat worn out lettering. Looking in the jar, we come across a light yellow pomade.
Ingredients
Aqua (Water), Lanolin, PEG-40 Hydrogenated Castor Oil, Propylene Glycol, Beeswax, Ricinus Communis (Castor) Seed Oil, PEG-20 Stearate, Copernicia Cerifera (Carnauba) Wax, PVP/VA Copolymer, PVP, Parfum (Fragrance), Benzyl Alcohol, Phenoxyethanol, Ethylhexylglycerin, Tocopherol (Vitamin E Oil), Disodium EDTA, 2-Bromo-2-Nitropropane1,3-Diol, Linalool.
A series of chemicals with a few non-PEG modified oils + waxes. But is this an oil based? Not a legit as water is the main ingredient and is followed by lanolin, PEG-40 castor wax, so yes … . The sum of oils and waxes make it sort of oil based but in fact it's better to call this a water based. The PVP (firming up agent) gives it gel-type features which I'll refer to in the application section. Shortly: a hybrid of oil and water based. But how will it behave styling wise? Let's see … .
Scent
Licorice-vanilla = novelty scent, sounds like a strange combination. Diving into the jar: smells rather strong, tones of vanilla sweetness and licorice nicely mixed, kind of bay rum, cologne like, reminds me of a barbershop scent = dig it! In the hair: less tart and balanced. Agreeable whiffs come by from time to time, nothing overwhelming in my book.
Application process – result
Application: whether dry or damp, say the directions. I always slightly dampen it to lessen the waves and ease overall application + styling. 3 scoops (average size) are sufficient. To get the pomade out of the tin, you need to push solid, mostly the upper layer. You get the typical strong hold 'caterpillar' shape. Breaking down: several solid rubs and it becomes bit of a waxy, buttery, shiny consistency, somewhat thick. Looks and feels like an oil based or unorthodox water type. Spreading throughout the hair: touch of grippiness but spreads well. Combing through the mane and changing the hair's direction to part: same tad of resistance = alright process for a stronger hold pomade. Due to its shiny appearance, I thought it was gonna lack hold as I experienced with several similar ones, especially all naturals. Most chemical made shiny pomades contain chemicals to give you a shiny look without having to redeem in hold but that shine mostly fades once the water evaporates. This pomade does not present itself like a heavy once you begin styling. Has more of the medium hold characteristics. My front is wavy but was easy to lift and form, neatly and clean, with decent height and volume. Light-medium sensation in terms of weight. Controls the hair well, no cowlicks issues or loose hairs, no dry feel to discern (good slickness level), waves did not break through. Sides were slicked down well. In a nutshell: easy and rather smooth to style with and within a rather short period. About the PVP I mentioned above: this ingredient is present in gels and gel type pomades to give the hair that stiff, hardening, locking in feature. My hair settled and stiffened, felt sticky and waxy like a waxier oil based. Looking back after a while: same shape, no saggy or loose hairs, no waves winning the game.
 Shine
Superior hold and shine inscription on the tin. Has much shine for sure: a solid medium to high one, taking into account I applied it to damp hair, that increases its shine intensity. If you're in for a shiny, wet look kind of style, this is a goody. Sheen won't disappear.
Hold – endurance
Made to be a heavy strength type. Applied it on slightly damp hair as mentioned before and provided more of a firm strength in my mane. Endurance: no strenuous jobs, rainy weather, temperatures around 55. Kept its overall shape. A tiny bit of sagging was the only thing I noticed.
Restyling
No water source involved. Sticky and a bit stiff but restyling went well: bit of a resistance. Hair had even bettered shape afterwards and no loss of hold, same shine, no flyaways or more waves.
Build up
You can let it sit overnight and add some more the next day(s). I personally prefer to wash it off due to the chemicals. Be aware it just needs water to rinse and will be out before you even notice.
Washing out
According to DD: water-soluble, no shampoo involved. Is it? That all depends on your hair type, some people will need shampoo, others won't. PEG-40 hydrogenated castor oil f.e. aids to separate the waxes, oils and water to wash it off easier. Wash out for me: easy, came out right away. Immediately after that, I conditioned my hair.
Hair, scalp issues
None.
Summarizing
This is in fact a water based. The pomade is called an oil based by the manufacturer. They better claimed intending to mimic an oil based with the ease of a non-greasy and easy to remove product.
Scoops out, breaks down like an oil based or unorthodox water based.
Behaves somewhat gel-type alike: settling, tad of stiffening up, locking in feature.
The stiffening up mimics a sticky, waxy oil based.
Similar pomade
O'Douds, Standard pomade – firm unorthodox, water-soluble pomade.
Acts quite similarly, merely in styling and results but not in consistency. The Dapper Dan provides good hold on damp hair as well whereas the O'Douds works much better on a drier mop.
Interested in oil based pomades only? You can join our 'Oil Based Pomade Enthusiasts' Facebook group – https://www.facebook.com/groups/OilBasedPomadeEnthusiasts/