Company – product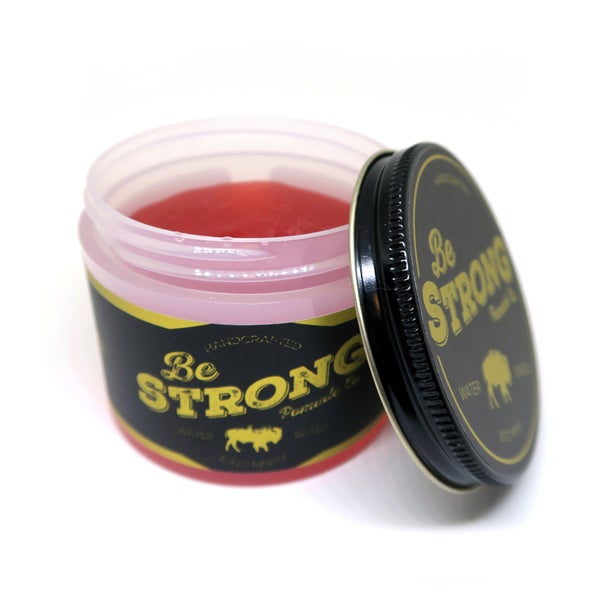 Be strong pomade co is a grooming brand based out of Mexico. Its CEO is Carlos Fco Garcia from Chihuahua City. He started his company in 2015 by cooking a home-brewed gel-type medium hold and this came out to be a product of good quality. In the meanwhile Carlos brewed a heavy hold gel pomade for the more extreme climates and demanding mops.
Carlos is also the dude behind Revival pomade, a grooming shop with foreign products that includes his own line as well: oil based pomade, rags, beard oils and balms, a lip balm, hand salve, after shave cream and a pre-shave oil.
I do prefer handcrafted pomades above the lab made ones because of the quality control, the small batches, the passion to create and brew, improve and stretching the boundaries by making new products and last but not least the thorough research of ingredients.
More info –
My hair profile
I've medium thick, wavy hair. I wear a side part with a contour. At the moment, I'm using a boar hair brush, a Denman plus a detangler (Tangle teezer). During styling, I use brushes most.
Presentation
Be strong pomade comes in a plastic tub with screw top lid. The sticker labeling is clean and done right in my opinion. It's also printed on top of the pomade's lid which makes it simpler to find in your collection. Instructions are in Spanish but you know the drill. You can opt for a 2 oz (travel size/try out option) or a 4.5 oz version. Inside you'll come across a red, translucent pomade.
Ingredients
Distilled Water (Aqua), Ceteareth-25, Glycerin, PVP, PEG-7 Glyceryl Cocoate, PEG-8 Beeswax, Propylene Glycol, Polysorbate-20, DMDM Hydantoin, Fragrance (Parfum), PEG-40 Hydrogenated Castor Oil, Rosmarinus Officinalis (Rosemary) Oil, Caramel, Red 6 (Cl 158050).
Carlos makes use of glycerin and rosemary oil which gives it a conditioning touch.
Scent
Did not find an exact scent description. For me it smells: fresh, kind of citrus and soapy, not overly chemical as many other gel-types. Tart in the jar. In the hair: it comes by sporadically. Do I dig the scent? More of a neutral opinion: not bad, not really my thing but not bothersome at all, tolerate it.
Application process – result
Application in slightly damp hair for me. Too damp: lost of hold but shiner. Used 3 average scoops. Scoops out real easy: a tad thick and sticky of a texture but not overly. Smearing in the hands: piece of cake. Less sticky than other gels. Goes in without lots of resistance and mixes well throughout the hair. Combing through: rather slick for an orthodox, tension is doable, workable. Changing the hair's direction and parting: combs through okay. The Be strong followed well the strokes of my combs and brushes. The Denman and boar brush do most of the work for me. Did not have to deal with it stiffening, hardening up while I was styling. Instead of that, sort of softness = positive thing. It tamed my waves well but I had some trouble with my cowlicks in the back to stay down. Sides were slicked down okay. Got some decent hair height with okay volume. My hair do is never the best using a gel pomade but Be strong heavy provided me with an alright and sufficient clean look. Looking back after an hour: a few loose strays here and there but the whole was held together without sag. This pomade did not end up giving me that helmet, hardened up gel-like feel at all which is again a good thing for me personally.
Shine
Around medium. No transition into matte once the water evaporated.
Hold – endurance
Described as a heavy holding pomade. To me: more of a firm/strong hold because my hair was still too damp. Dry hair enhances the strength of the pomade. My mane lost a bit of its shape on a few spots. Sweat a lot by sporting and my hair started to wave somewhat in the front. Had to restyle. Overall: good endurance.
Restyling
The profit of a water source is recommended: tug-free, revamped shine and hold. How does it do without water? Noticeable tug and pull and its hold lessens as with many other gel-types. No flaking.
Washing out
Water soluble: just water, done. Hair felt good afterwards. I always condition after using an orthodox type.
Hair, scalp issues
None.