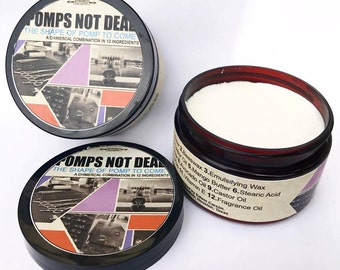 Company – product
Pomps not dead (PND) is very infamous for its super slick and sick pomades made by Edwin Carson out of Texas/Houston. As many know, Edwin offers handcrafted classic oil based pomades with splendid designed tins (shout out to his wife). Next the great (novelty) scents and the overall ease to style make his brand one of the most top-notch ones in the pomade world. PND is a must try. MUST TRY. Period. Whether you need a light or a heavy, you'll find pomades in each strength range.
'The shape of pomp to come' is Edwin's contribution to the water based unorthodox field. This non-drying water based has a medium hold and a natural shine. He made an initial batch a few months earlier. It was presented in a tin but because of rust and slickness issues he reworked it. I'll showcase the final batch in this review.
About his first batch: that one is also great and if you can, try it out: it's similar but drier and somewhat less slick but very workable in my opinion. I still have it and I like it! I will compare both products in the review.
Name and artwork has been done by Josh of Cutthroat supply co and was inspired by 'The shape of punk to come', a 1998 album from the Swedish hardcore punk band 'Refused'.
Edwin sent his water based to me to get my opinion. I will be honest and not preaching in favor of the brewer! Thanks, Edwin to send it my way!
More info:
My hair profile
I've medium thick, wavy hair. I wear a side part with a contour. At the moment, I'm using a boar hair brush, a Denman plus a detangler (Tangle teezer). During styling, I use brushes most. More about the tangle teezer on: https://piw74.com/2016/07/16/combs-brushes-afro-picks-an-inventory/
Presentation
Poured into a 3.7 oz amber plastic jar with screw top lid. Pomade's color is clean white.
Ingredients
Distilled Water, Beeswax, Emulsifying Wax, Hydrogenated Castor Oil, Mango Butter, Stearic Acid*, Soy Wax, Avocado Oil, Castor Oil, Optiphen Plus**, Vitamin E, Fragrance Oil.
* Stearic acid: a co-emulsifier and gel former (mixes water, oils, waxes and butters together)
** Optiphen plus: preservative as it contains water.
The order of the ingredients has changed a bit and there are a few new ingredients in it.
Scent 
Sandalwood, bay rum. Love the smell for it's clean and manly. In the jar: bit strong but not overpowering. In the hair: more subtle to give some pleasant clean breezes throughout the day, being not too prominent. Scent of the previous batch was citrus and not in the line of the typical PND scents in my opinion. On the other hand, the updated smell is very PND.
Application process – result
Before applying, clean and dry your hands well. Dirt can cause the pomade to become moldy and a center of bacteria because of the water source in there. After using it: remove hairs out of the jar. There are preservatives in it but being careful is always a good thing. Store it in a cool and dry environment. I applied it on slightly wet hair because of its consistency which is quite similar to its predecessor and that was not so workable on damp/wet hair, which I prefer. I don't like working with dry hair for it does not style slick and neat and my waves are too strong to tame. Scooping out is an easy process: some pressure (just the top layer) and it comes out. Breakdown of the product: again some pressure and it becomes a white cream at first. I worked it through that way and had some white streaks which vanished right away. Breaking it down completely, no white substance anymore but an oily, buttery, not sticky texture. Does not feel not as dry as the previous batch. Scooped 3 average licks on freshly washed hair. Working through the hair is a tug-free experience. Spreads evenly very easily. Slicking back with my Denman brush: some grip noticeable. Shiny presence. The pomade tamed my cowlick areas well, also the sides, kept hair down and in place great and tamed my waves sufficiently, they were present but in a clean and neat way. The pomade is slick and there are not many flyaways, strays to discern. Provides a good control without forcing the hair into any direction. Obtained a nice, clean hairdo with average height and volume. Feels light-medium in terms of weight. Styles rather fast. After a while my hair was still the same, no sag or strays, with no waves showing up.
Shine
Natural shine according to Edwin's description. To me: a touch below medium. With the winter sun shining on me, it gave a clean and shiny luster to my hair. Shine stays all day long.
Hold – endurance
PND says: medium hold. A medium I got as well. Got the impression it's a touch lighter than the first batch. Hair kept its overall shape very well. Tested in normal circumstances: cold winter weather (around 23 ° F), wind-free, a nice winter sun and no real strenuous activities. Test 2: bicycle trip, cold weather, some wind, little sun: hair did not move. Overall: tamed the waves sufficiently without strays or flyaways showing up. The initial batch did a better job taming my waves, more on that: section 'build up'.
Restyling
No need to restyle. Restyle test: no resistance combing through. Hold is about the same after reworking it. Hair was slightly wavier.
Build up
Clean, light and manageable. More waves on the second day but in a neat, not messy manner. I tried out the very damp way and that worked out great to control the waves.
Washing out
1-2 shampoos depending on the amount of product used and of course your hair type. Washes out easy. Conditioned, soft feel afterwards due to the nourishing oils, waxes and mango butter.
Hair, scalp issues
None.