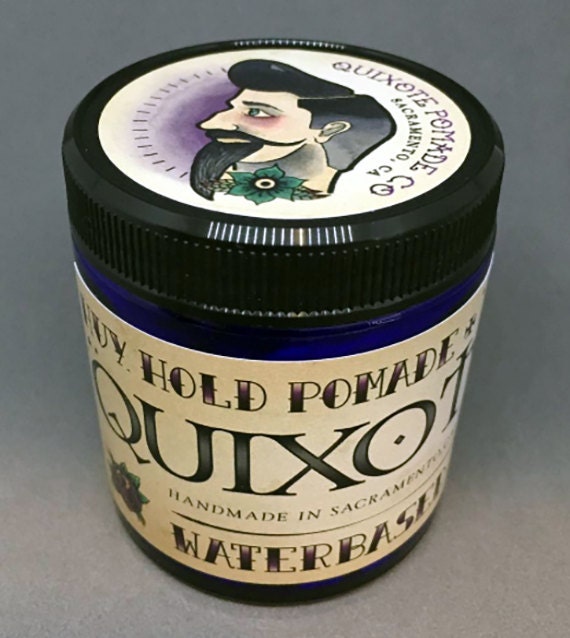 Company – product
'Until death, it's all life'
Quixote pomade, name chosen by brewer Amilcar Cifuentes, after the Spanish novel 'Don Quixote' by Cervantes. In short: Alonso Quijano calls himself 'Don Quixote' loses his mind and thinks he is a knight. He is very confused and acts crazy.
Quixote pomade is located in Sacramento/CA. Amilcar brings various handcrafted pomades in the light, medium, heavy and super heavy range. He created oil based, wax based, water based pomades plus a clay. He even made a light unorthodox water based pomade, these are rare and a good addition. The pomade I will be reviewing, is his unorthodox water based heavy hold.
The artwork was done by Tre Martin and Jacob Steiniger. Latter has designed labels for several pomade brewers such as: Tame your beast pomades, Aztlan Authentics, the collab Anthony Torfs X O'Douds (The making of a modern barber), … . The Quixote labeling looks even nicer in real life than on film. Shout out to Jacob!
Additional material: interview with Amilcar Cifuentes by Mike Smith from the YouTube channel 'Modern man TV'. Link: https://www.youtube.com/watch?v=MW4JwC9Iv2E. Check out this guy's other reviews! He does a great job!
More info on Quixote pomade: https://www.etsy.com/shop/QuixotePomade
My hair profile
I've medium thick, wavy hair. I wear a side part with a contour. At the moment, I'm using a brush with wild boar hair, a Denman brush plus a wide tooth comb (detangler). During styling, I use brushes most.
Presentation
Comes in a 4 oz dark blue glass jar with nice labels and a black plastic twist lid. Filled to the brim! The pomade is clear white.
Ingredients
Agua (Water), Candelilla Wax, Hydrogenated Castor Oil, Carnauba Wax, Mango Butter, Emulsifying Wax, Beeswax, Vitamin E Oil, Fragrance, Optiphen ND.
Optiphen ND is a preservative. Water based pomades need preservatives as a prevention against unhealthy molds, yeasts, bacteria. Other ingredient in here, of natural origin, also help to preserve the product (but not sufficient on its own): vitamin E oil for example. Latter is a solid antioxidant.
My last jar contains jojoba butter as well.
Scent
I tried different scents:
Citrus cologne. In the jar: sweet, a bit strong. In the hair: the aroma lingers all day, becoming more subtle when the day passes. Overwhelming? No. The scent is okay for me, being a lover of modest present smells. The second day, I nearly didn't smell it anymore.
After the barbershop. In the jar: present, strong and sweet barbershop scent. In the hair: whiffs throughout the day, rather strong, not overpowering. Not my favorite barbershop aroma but it is alright to wear.
Application process – result
Be sure to style with clean and dry hands to avoid the pomade getting moldy (water base). Don't leave hairs or other dirt in. Store it cool and dry. Its outlook differs from other non-drying water based pomades. Pomade reviewer Cabalheiro described it perfectly as 'Don Quixote's crazy brain' and yes that's true. Concretely: a messy (not nasty) substance. I suppose this pomade's consistency doesn't allow perfect pouring and this doesn't bother me. It matches the theme, that's what makes it great and unique. Scooping out: its texture is incoherent, you get bits of pieces. Therefore, take small amounts. The product scoops out right away, without any resistance. Regarding the amount of different waxes this is fantastic. Breakdown: rub tight and quick because the pomade collapses and hits the floor before you know. Very important too is to break it down thoroughly because of clumps (wax beads?). My second jar did not contain clumps. This process needs some patience and firm rubbing. If you don't break it down profoundly, hair will have white specks in it. Didn't have that issue as Cabalheiro's warned me. From time to time a speck, a few rubs and gone. Pomade goes in easy, spreads evenly without problems. Some white streaking that disappears right after distributing, combing. My second jar did not have that 'issue' anymore. Doesn't have a strong grip. Feels a bit oily, not dry, not sticky either. Used 4 licks of it. Combing through went easy, no tug present. When slicking my hair back, it gave me the impression it wasn't going to be a heavy hold for me. I was right. Styling went easy, styling went slick and quick. Super lightweight pomade which reminds me of Grandad's old fashioned water based medium. The Grandad's pomade did a better job when I waited a few minutes to let it settle before styling. Maybe this is the case as well for Quixote's. Got a wavy front. But no sleazy, greasy waving at all. My cowlick and sides were managed very well. Height: okay. Hairdo: neat and clean: no strays or flyaways. No splits. Hair kept its shape after initial styling.
Shine 
It says: medium shine. For me: around a medium. Shine there for the rest of the day.
Hold – endurance
On the labels you read: HVY = heavy hold. To me: a good medium hold. My waves didn't get worse. My sides and cowlick were tamed great. Endurance wise: I did some cycling with temperatures around 70, rather windy and sweating a bit. Hair coped great. No strays, no flyaways. My waves sagged a tiny bit. Sides held down perfect, cowlick held in place perfect. Great lightweight feel in the hair. Provides good control. Great endurance. Hair feels soft and clean.
Restyling
No resistance. Hold about the same after recombing. Because of the good control, I didn't need to restyle.
Build up
Clean build up, one of the cleanest. On wet hair, better results (waves tamed = basic for me).
Washing out
1-2 rinses with shampoo. Hair feels soft and healthy afterwards.
Hair, scalp issues
None.
Similar pomades
Grandad's medium unorthodox water based.
Pomps not dead, The shape of pomp to come, medium unorthodox water based.