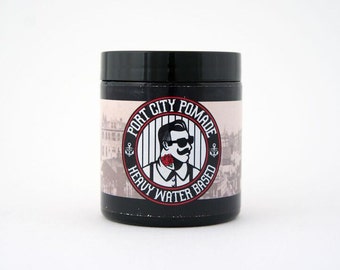 Company – product
The port city pomade highlighted here, is water based, non-drying or the 'unorthodox' type and a heavy hold. Made by hand, by barber Steven Herder, an all natural pomade, fabricated in Stockton/California. Formula plus jar label have been tweaked (January 2016), labeling is in the same line as his medium oil and water based. If this one is too heavy of a hold, grab that medium water based.
July 2016: his water based comes in a coffee scent.
More info: https://www.etsy.com/shop/PortCityPomade
Got mine from 'Tame your beast', Belgium (Anthony Torfs). Check him out: http://www.tameyourbeast.com
My hair profile
I have medium thick, wavy hair. I wear a side part with a contour. At the moment, I'm using a brush with wild boar hair, also a Denman brush plus a wide tooth comb to style my hair. During styling, I use brushes most. 
Presentation
The jar is an amber glass one, a 4 oz size. Has a yellowish color.
Ingredients
Distilled Water, Borax, Soy Wax, Beeswax, Avocado Oil, Refined Certified Organic Sunflower Oil, Lecithin, Potassium Sorbate Powder, Essential Oils.
Scent
Actual scent: vanilla-orange. For me, in its jar: a tad vanilla sweet plus some sour notes noticeable. In the hair: much better smell, sweet, vanilla like. Not a big fan of it. The scent is not overpowering but present, there's a good balance. You'll smell it throughout the day, people notice it.
Application process – result
Please take always notice to style with clean, dry hands because this is a water based and mold can form. At the end of usage: check if they're no hairs left in  the jar. Store it cool and dry. Apply on damp hair, works the best for my hair. Apply it on wet hair with build up, without problems. No pressure needed to scoop. Has a grainy texture: make sure to take small scoops and rub your hands immediately because it will disintegrate, breaks apart. Other users did not encounter this collapse issue (maybe mine was poured too hot). Reminds me of the previous batch of Rex wax water based but the Port City breaks down much easier with a bit of pressure and becomes creamy very quick. The previous batch was more difficult to breakdown I saw on a review, so this is an improvement. You'll get some white streaking in your hair but this disappears as you comb. Pomade goes in easy and very smooth. A few scoops are enough to style (4 average sized licks). No tug and pull as you disperse it into the hair, neither when you slick it back. Says it's a heavy but feels light in the hair. No stickiness or greasiness at all. Styles fast, easy, slick. Hair kept shape as I looked back after half an hour or so. Waves, cowlicks, sides: tamed. Nice hairdo with some good height.
Shine
A few notches above natural, stayed like that.
Hold – endurance
Described as a heavy hold. For me: more of a firm. Does not harden. Holds the hair in place the whole day: a few strays, minimal sagging. It straightened out the hair, no waves there during the day. Tamed my cowlicks very well, same for the sides. No splits, not many strays, flyaways. Got nice comb lines. Hair remained soft. Heavy wind, a walk or a bicycle trip: no issues, hair endured well. Had some troubles a few times: wavy hair, less hold.
Restyling
No problem since the pomade does not harden. No tug and pull as you comb through. There's no loss of hold afterwards, my waves didn't show up. But all this said: there really was no need to restyle most of the times I used it.
Build up
Clean build up, manageable as well.
Washing out
Does not rinse out with just water. You'll need 1-2 shampoos. Hair feels healthy and soft afterwards.
Hair, scalp issues
None.